1) Bill Moyers on the challenge of journalism in our plutocracy.
2) I'm with Drum.  Man do I hate it when politicians decide some particular disease needs funding because it happens to affect somebody in their own family.  The failure of empathy and vision on such matters is just breathtaking.
3) The politics of facial hair.
4) Can family friendly policies be too generous?  Maybe.
5) Americans (and me) love their circumcision.  (And there's a pretty fascinating case in here involving child custody, too).
6) Cool interactive feature on how family income affects a child's chances of going to college.
7) I hate the tone of this piece, but it's nice to see some conservatives admitting our criminal justice system is in desperate need of reform.
8) Something tells me, though, the author of the above would not admit to the pervasive racism throughout our criminal justice system.  Vox nicely summarizes it, though.
9) Pretty amazing story about the chocolate diet hoax.  You really should read this to be an informed consumer of health journalism.  Personally, I vaguely recall seeing some links about this and concluding based on the headlines that it was probably junk science with nothing there.
10) I was actually watching this Messi goal when it happened.  One of the most impressive I've ever seen.
11) Former GW Bush administration flunkie took to the NYT in a data-free column to argue that the Democratic party has shifted even further left than the Republicans have moved to the right.  Seth Masket corrects this with a little thing called data.
12) The NC legislature passed a horrible law to prevent employees from reporting malfeasance by their employers (yes, seriously).  To his credit, our governor vetoed it.  Alas, it appears the legislature has the votes to override.
13) I'm frequently amazed at who has a "black belt" in martial arts.  Suffice it to say, earning a black belt is not what it used to be.
14) As for this academic career advice from an almost geezer?  Already on top of almost all of it.  Apparently I figured out early in my career what took him decades.  Good advice for a lot of careers actually.
15) How America became a global power in a series of maps (via Vox).
16) I love apples and I love Planet Money, so this story was just catnip for me.  That said, I do think Honeycrisp apples are good, but way overrated (and over-priced)..
Looks like I've done pretty well for just playing a fair amount of pick-up basketball back in high school.  Via the Atlantic: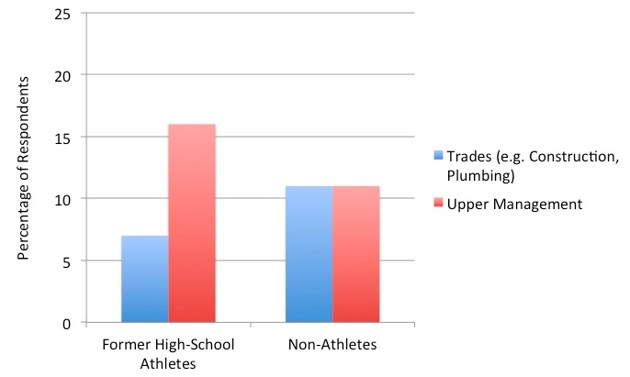 Are high-school sports conferring leadership skills and self-confidence onto a bunch of otherwise unambitious kids? Or are they simply signals, activities that professionally gifted youth gravitate toward? It's not exactly clear. On one hand, team sports, with their constant passing of balls, pucks, and batons, might teach children and teens cooperation. And young people might learn something just from being in situations when they're subordinates. But on the other hand, the likelihood that someone plays a sport could have to do with several variables not recorded in the data: coming from a family that can afford the proper equipment, that has the time to shuttle kids to practice, or that puts a premium on physical activity. Also, "popular" kids might be more likely to play sports, and popularity is really just a proxy for networking prowess—something that the business world prizes.
We don't have an answer on this yet, but my supposition is that far more than anything else we are looking at selection bias.  I suspect the self-discipline and related non-cognitive skills that it takes to balance official high school athletics with academics, as well as the drive and ambition, reflect individuals who are going to succeed more in life, regardless of whatever teamwork and coaching may teach you.  Regardless, interesting.