Thomas Edsall had a column back in May about how interesting it is that while other social issues have undergone dramatic change, abortion has remained such a stable area of conflict.
Over the years, the abortion debate has become a linchpin in the political battle between Democrats and Republicans, mobilizing Christian evangelicals on the right and supporters of the women's movement on the left.

Why has the abortion issue had such staying power, compared, for example, with the steady liberalization of views on homosexuality and interracial marriage?
Of course, there has been a lot of underlying partisan change:
From 1975 to 1988, the views of Democrats and Republicans on abortion were virtually identical, again according to Gallup, when 18 percent to 21 percent of voters in both parties agreed that abortions should be allowed "under any circumstances." Since 1988, the parties have diverged: by 2018, 46 percent of Democrats, but only 11 percent of Republicans, said abortion should be "available under any circumstances."

Contemporary polling shows that there are a number of contradictions in the public view of abortion. In some respects, majority opinion is supportive of abortion rights, in others it is opposed.
There's all sorts of interesting numbers to dig into.  Mostly illustrating the fact that Americans are far more ambivalent on the issue than you'd ever guess from 1) media coverage, or 2) the views of political elites.
But, overall, what I find most striking, is the overall consistency of opinion while other social issues have changed so much.  Drum:
Needless to say, this violates Kevin's Law, which states that opinions on abortion never change, and anyone who says otherwise is engaged in special pleading. So without further ado, here is Gallup's own conclusion:

Little has changed over the past year, or even over the past 10 years, in Americans' basic outlook on abortion.

And here's the main chart:

Since 1975, the number of people who think abortion should be illegal under all circumstances has surged from 22 percent to . . . 21 percent.

Give it up, folks. Nothing is changing, and there's no special reason to think it ever will. Whatever happens, the chart above describes the basic state of public opinion that we all have to deal with. So deal with it.
But here's the thing, this doesn't actually make sense.  People with more education are more liberal on abortion.  People who are less religious are more liberal on abortion.
Here's college grads over time:
And here's the rise of the religiously unaffiliated:
So, two key demographics that favor legal abortion have been growing.
And here's the modest decline in white Evangelicals: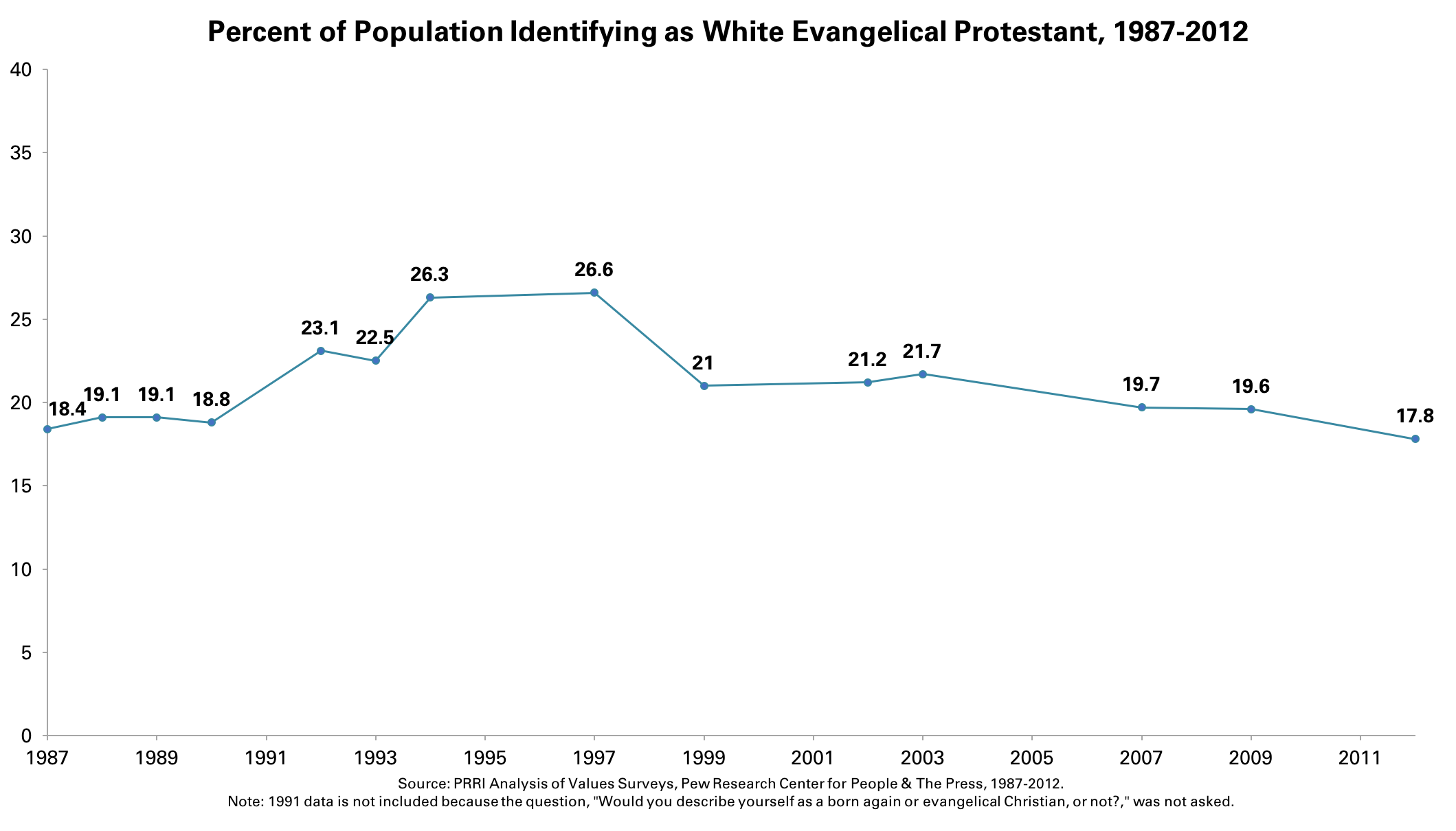 So, with all this going on, why isn't support for legal abortion noticeably climbing?!  I honestly don't know.  But, I'm pretty sure there's political science research with my name on it that's going to try and figure that out.