Quick hits (are back!) part I
1) Ed Yong with easily the best piece on "brain fog" and Covid that I've read:
Although SARS-CoV-2, the coronavirus that causes COVID, can enter and infect the central nervous system, it doesn't do so efficiently, persistently, or frequently, Michelle Monje, a neuro-oncologist at Stanford, told me. Instead, she thinks that in most cases the virus harms the brain without directly infecting it. She and her colleagues recently showed that when mice experience mild bouts of COVID, inflammatory chemicals can travel from the lungs to the brain, where they disrupt cells called microglia. Normally, microglia act as groundskeepers, supporting neurons by pruning unnecessary connections and cleaning unwanted debris. When inflamed, their efforts become overenthusiastic and destructive. In their presence, the hippocampus—a region crucial for memory—produces fewer fresh neurons, while many existing neurons lose their insulating coats, so electric signals now course along these cells more slowly. These are the same changes that Monje sees in cancer patients with "chemo fog." And although she and her team did their COVID experiments in mice, they found high levels of the same inflammatory chemicals in long-haulers with brain fog.

Monje suspects that neuro-inflammation is "probably the most common way" that COVID results in brain fog, but that there are likely many such routes. COVID could possibly trigger autoimmune problems in which the immune system mistakenly attacks the nervous system, or reactivate dormant viruses such as Epstein-Barr virus, which has been linked to conditions including ME/CFS and multiple sclerosis. By damaging blood vessels and filling them with small clots, COVID also throttles the brain's blood supply, depriving this most energetically demanding of organs of oxygen and fuel. This oxygen shortfall isn't stark enough to kill neurons or send people to an ICU, but "the brain isn't getting what it needs to fire on all cylinders," Putrino told me. (The severe oxygen deprivation that forces some people with COVID into critical care causes different cognitive problems than what most long-haulers experience.)
2) This has been covered pretty well in places like Wired and the write-up of my twitter friend Jeremy Chrysler, but Jose-Luis Jimenez, Lindsey Marr, and others bring the academic credentials to the question: "What were the historical reasons for the resistance to recognizing airborne transmission during the COVID-19 pandemic?"
The question of whether SARS-CoV-2 is mainly transmitted by droplets or aerosols has been highly controversial. We sought to explain this controversy through a historical analysis of transmission research in other diseases. For most of human history, the dominant paradigm was that many diseases were carried by the air, often over long distances and in a phantasmagorical way. This miasmatic paradigm was challenged in the mid to late 19th century with the rise of germ theory, and as diseases such as cholera, puerperal fever, and malaria were found to actually transmit in other ways. Motivated by his views on the importance of contact/droplet infection, and the resistance he encountered from the remaining influence of miasma theory, prominent public health official Charles Chapin in 1910 helped initiate a successful paradigm shift, deeming airborne transmission most unlikely. This new paradigm became dominant. However, the lack of understanding of aerosols led to systematic errors in the interpretation of research evidence on transmission pathways. For the next five decades, airborne transmission was considered of negligible or minor importance for all major respiratory diseases, until a demonstration of airborne transmission of tuberculosis (which had been mistakenly thought to be transmitted by droplets) in 1962. The contact/droplet paradigm remained dominant, and only a few diseases were widely accepted as airborne before COVID-19: those that were clearly transmitted to people not in the same room. The acceleration of interdisciplinary research inspired by the COVID-19 pandemic has shown that airborne transmission is a major mode of transmission for this disease, and is likely to be significant for many respiratory infectious diseases.
3) Can you exercise your way out of Covid?
For decades, scientists have observed that people who are fit and physically active seem to have lower rates of several respiratory tract infections. And when people who work out do get sick, they tend to have less severe disease, said David Nieman, a professor of health and exercise science at Appalachian State University, who was not involved in the recent Covid-19 review.

"The risk of severe outcomes and mortality from the common cold, influenza, pneumonia — they're all knocked down quite a bit," Dr. Nieman said. "I call it the vaccine-like effect."

The new meta-analysis, which looked at studies between November 2019 and March 2022, found that this effect extends to Covid-19. People from across the globe who worked out regularly had a 36 percent lower risk of hospitalization and a 43 percent lower risk of death from Covid compared with those who were not active. They also had a lower likelihood of getting Covid at all.

People who followed guidelines recommending at least 150 minutes of moderate activity or 75 minutes of vigorous activity per week seemed to get the most benefit. But even those who exercised less than that were more protected against illness than those who did not work out at all.
I recently spent two hours in a car with someone I am 99% sure was infectious with Covid at the time and I did not get it.  All that exercise?
4) Ezra with a terrific interview on the Ukraine War.  So much fascinating analysis:
What did we get wrong about Russian might?

Andrea Kendall-Taylor

I think we first and foremost got this wrong because we didn't know that Putin would concoct such a terrible plan. And for me, that's largely a product of the type of political system that Putin built. This is a highly personalized, authoritarian regime. And I've studied a lot of autocracies. My lens on Russia is very much through an authoritarian, kind of comparative politics lens. And the Putin regime ahead of this invasion was by far one of the most centralized autocracies that I have seen.

And in that kind of system, good information does not float to the top, right? They're based on loyalty, and it's not in anyone's career interest to tell the boss bad news. So Putin, for one, was operating with terribly flawed assumptions. And so I think that's number one for me of why we got it wrong. These personalist dictators make mistakes. So first of all, Putin and Russia misunderstood Ukraine entirely. They hold these very derogatory views of Ukrainians.

And I think the Russians have entirely missed what's been happening in Ukraine since 2014 — that Ukraine has built up a stronger national identity, that they have had this commitment to moving to the West. You know, Putin believed that they could get to Kyiv, decapitate the regime, and that the whole country would fall like a house of cards. So they fundamentally misunderstood Ukraine. We talked about them — along with the United States, the Russians also obviously underestimated and misunderstood Ukraine's willingness to fight.

So again, for me, I think we got it wrong because we failed to consider the weaknesses that begin to accumulate in these longtime, personalist autocracies. These countries, they're inclined to make mistakes, these personalist dictators. And over time, these guys, they run their countries into the ground. And so the plan was bad, and the plan was bad because it was the product of Putin's personal system. And I think we just didn't factor that in.

We were wrong about all sorts of things on the Russian military front too. And just quickly, I'll say corruption was a really big issue. I think we failed to see the rot in the Russian military. We didn't see just how pervasive it was. So yeah, we overestimated Russian capabilities, but I also think a lot of it was just misunderstanding how terribly wrong and disastrous the decisions that these personalist, authoritarian regimes can make.
5) People should get vaccinated.  And boosted.  This chart from Katelyn Jetelina: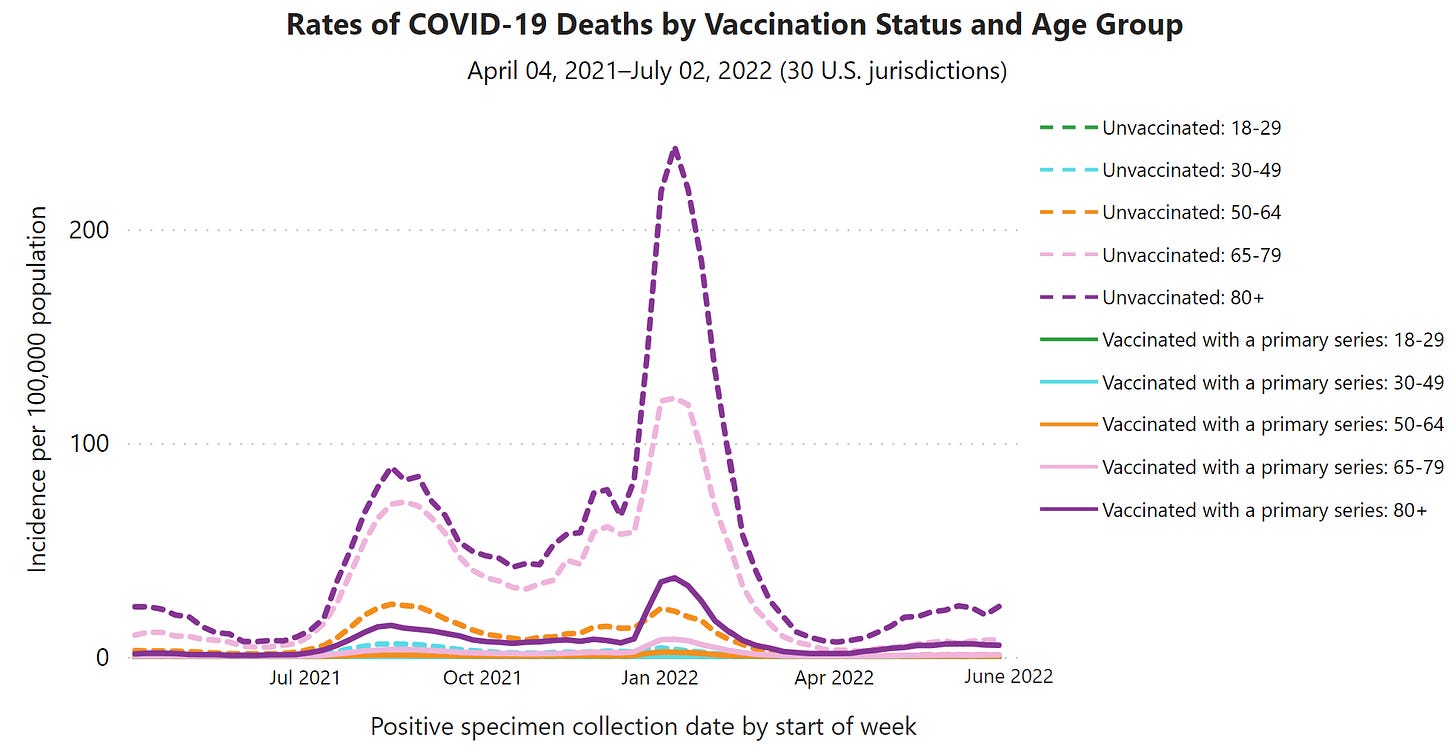 6) Leonhardt on Democrats and Hispanic voters:
In Barack Obama's 2012 re-election campaign, he won the Hispanic vote over Mitt Romney by 40 percentage points — 70 percent to 30 percent, according to Catalist, a political research firm. Four years later, Hillary Clinton did even better, beating Donald Trump by 42 percentage points among Hispanic voters.

But then something changed.

The economy became even stronger at the start of Trump's presidency than it had been during Obama's. The Democratic Party moved further to the left than it had been under Obama. Trump turned out to have a macho appeal, especially to some Hispanic men. And some Hispanic voters became frustrated with the long Covid shutdowns.

 

Whatever the full explanation, Hispanic voters have moved to the right over the past several years. As a group, they still prefer Democrats, but the margin has narrowed significantly. In 2020, Joe Biden won the group by only 26 percentage points. And in this year's midterms, the Democratic lead is nearly identical to Biden's 2020 margin, according to the latest New York Times/Siena College poll — a sign that the shift was not just a one-election blip…

The problem for Democrats is that winning the Hispanic vote by only 26 points may not be enough for the party to accomplish its main goals.

"Let's not forget that 2020 levels of Hispanic support were nearly catastrophic for Democrats," Nate Cohn, The Times's chief political analyst, told me. It helped cost the party House seats in California, Florida and Texas and allowed Republicans to win statewide races comfortably in Florida and Texas. It nearly helped Trump win re-election.

Democrats need to do better with Hispanic voters (or reverse some of their recent losses with white voters) to build solid congressional majorities. The party currently controls the Senate by only a single vote, and Republicans are favored to take control of the House in this year's midterms.

"The whole theory of Democrats really benefiting from demographic change rests on them winning the Hispanic vote by a wide margin," Nate says. Without a better showing, Democrats probably cannot flip Florida or Texas, even as they face a growing Republican threat in the Midwest because of the continuing drift of white voters away from Democrats.
7) Great stuff from Nate Cohn on "The Emerging Democratic Majority" at 20:
Today we wish a belated and maybe not-so-Happy 20th Birthday to "The Emerging Democratic Majority," the book that famously argued Democrats would gain an enduring advantage in a multiracial, postindustrial America.

There are countless explanations for the rise of Donald Trump and the growing dysfunction of American political life. This book does not necessarily rank at the top of that list. But when historians look back on this era, the book's effect on American politics might be worth a mention.

The thesis that Democrats were on the cusp of a lasting advantage in national politics helped shape the hopes, fears and, ultimately, the conduct of the two major parties — especially once the Obama presidency appeared to confirm the book's prophecy.

It transformed modest Democratic wins into harbingers of perpetual liberal rule. It fueled conservative anxiety about America's growing racial diversity, even as it encouraged the Republican establishment to reach out to Hispanic voters and pursue immigration reform. The increasingly popular notion that "demographics are destiny" made it easier for the progressive base to argue against moderation and in favor of mobilizing a new coalition of young and nonwhite voters. All of this helped set the stage for the rise of Mr. Trump…

While the book correctly anticipated Democratic strength in postindustrial metropolitan areas, it failed to appreciate the challenge of holding on to blue-collar white voters at the same time.

The authors said the "key" for Democrats would be in "discovering a strategy that retains support among the white working class, but also builds support among college-educated professionals and others." But the book did not contain a road map to pulling it off. It said, "They can do both." The optimism was rooted in the assumption that Clinton-Gore had already solved the problem.

The authors dismiss the Bush victory in 2000, arguing that Al Gore failed "largely because of factors that had nothing to do with the appeal of his politics."

While the book acknowledged that Mr. Bush was assisted by Mr. Gore's stances on the environment, coal, abortion and gun control in white working-class areas, it didn't appear to take these cultural issues as a serious problem for Democrats. At the very least, they weren't considered serious enough to move West Virginia out of the Democratic column.

Instead, the authors advanced the argument that the strong economy in 2000 was actually part of Mr. Gore's problem, by allowing working-class whites to vote on cultural issues rather than their economic interest. The Clinton sex scandals were also considered a necessary condition for Republican strength; without Bill Clinton dragging them down, Democrats would rebound. Whatever the merits of these arguments, it isn't especially credible to argue that the 2000 election — held at a time of peace and prosperity — was anything like a worst-case scenario for Democrats.

In retrospect, gun control and environmental issues were harbingers of one of the major themes of postindustrial politics: White working-class voters were slowly repelled by the policy demands of the secular, diverse, postindustrial voters who were supposed to power a new Democratic majority.
8) Fascinating stuff (with lots of super-cool figures) here, "Quantifying hierarchy and dynamics in US faculty hiring and retention"
Faculty hiring and retention determine the composition of the US academic workforce and directly shape educational outcomes1, careers2, the development and spread of ideas3 and research priorities4,5. However, hiring and retention are dynamic, reflecting societal and academic priorities, generational turnover and efforts to diversify the professoriate along gender6,7,8, racial9 and socioeconomic10 lines. A comprehensive study of the structure and dynamics of the US professoriate would elucidate the effects of these efforts and the processes that shape scholarship more broadly. Here we analyse the academic employment and doctoral education of tenure-track faculty at all PhD-granting US universities over the decade 2011–2020, quantifying stark inequalities in faculty production, prestige, retention and gender. Our analyses show universal inequalities in which a small minority of universities supply a large majority of faculty across fields, exacerbated by patterns of attrition and reflecting steep hierarchies of prestige. We identify markedly higher attrition rates among faculty trained outside the United States or employed by their doctoral university. Our results indicate that gains in women's representation over this decade result from demographic turnover and earlier changes made to hiring, and are unlikely to lead to long-term gender parity in most fields. These analyses quantify the dynamics of US faculty hiring and retention, and will support efforts to improve the organization, composition and scholarship of the US academic workforce.
9) Don't just walk for exercise… walk faster, apparently:
In a new study, which looks at activity tracker data from 78,500 people, walking at a brisk pace for about 30 minutes a day led to a reduced risk of heart disease, cancer, dementia and death, compared with walking a similar number of steps but at a slower pace. These results were recently published in two papers in the journals JAMA Internal Medicine and JAMA Neurology…

Researchers found that every 2,000 additional steps a day lowered the risk of premature death, heart disease and cancer by about 10 percent, up to about 10,000 steps per day. When it came to developing dementia, 9,800 steps per day was associated with a 50 percent reduced risk, with a risk reduction of 25 percent starting at about 3,800 steps per day. Above 10,000 steps a day, there just weren't enough participants with that level of activity to determine whether there were additional benefits…

But then the researchers of this study did something new. When they looked at the step rate, per minute, of the highest 30 minutes of activity a day, they found that participants whose average highest pace was a brisk walk (between 80 and 100 steps per minute) had better health outcomes compared with those who walked a similar amount each day but at a slower pace.

Brisk walkers had a 35 percent lower risk of dying, a 25 percent lower chance of developing heart disease or cancer and a 30 percent lower risk of developing dementia, compared with those whose average pace was slower.
10) On EMDR:
Trauma shoves a mind into overdrive. The brain tries to block out fragments of disaster: the spray of shattered glass as one car slammed into another, the smell of smoke. People with post-traumatic stress disorder sometimes constrict their lives, avoiding streets or smells or songs that make them think about what they've experienced. But memories make themselves known — in nightmares, flashbacks, and intrusive thoughts.

Since PTSD was first included in the Diagnostic and Statistical Manual of Mental Disorders in 1980, clinicians have identified a handful of therapies that help people cope with traumatic memories. Over the past decade, a seemingly unconventional treatment has wedged its way into mainstream therapy.

Eye movement desensitization and reprocessing therapy, better known as E.M.D.R., might look bizarre to an observer. The practice involves coaxing people to process traumatic memories while simultaneously interacting with images, sounds or sensations that activate both sides of the brain. Patients might flit their eyes back and forth, following a therapist's finger or stare at bursts of light on alternating sides of a screen. The idea is to anchor the brain in the current moment as a patient recalls the past.
11) Yglesias (free post) with a really good take on racism:
Until the relatively recent past, the United States of America had a de jure racial caste system, and there remain, decades after officially ending that system, significant and obvious racial gaps in material resources and other outcomes. This, Bright argues, creates an inevitable tension: there's a big gap between the country's official status as a non-racist society and what everyone can see in practice.

He says this creates a battle between two dueling factions of white people, the Repenters and the Repressers.

The Repenters feel very guilty and want to do things to expiate that guilt, "and their form of repentance involves trying to change their interpersonal habits and consumer choices so as to minimize their contribution to the broader social issue, and help the particular black people they interact with. In this way, by doing that sort of self-work, they hope to be able to live in a world that is admittedly unjust while making it that little bit better, and through such efforts be able to honestly maintain a positive self image."

On the other side are the Repressers, who just want to be told that racism ended when Lyndon Johnson signed the Civil Rights Act or Barack Obama was elected president. They acknowledge the country's history of racism as well as our huge racial disparities in outcomes, but they maintain that this is just an odd coincidence. These are the folks who lost their shit when Obama said "if I had a son, he'd look like Trayvon" because it betrayed the idea that Obama's mere presence in the White House ended the need to ever discuss such matters.

Of course not everyone is white, and Bright has this rather funny take on how non-white people get sucked into and exploit the white psychodrama:

Of course, the rest of us do not simply sit by and watch the whites duke it out amongst themselves. If nothing else they still have ownership of the stuff and a democratic majority, so most of us are dependent on them for making a living. How then have the PoC intelligensia — people of colour sufficiently engaged in politics to be tapped into the white culture war and the historical narrative underpinning it — responded to the opportunities and challenges presented thereby?

With a dextrous entrepreneurial spirit! Which is to say, by cashing in. In institutions like academia more dominated by the Repenter type there has been the opportunity for mediocre of sharp eyed young PoC intelligentsia to present themselves as bearers of black thinkers' insight (e.g. Bright 2018). It is considerably harder to pull this off from within academia as an advocate for Represser views. But where there is demand there will be supply. And there is a large audience keen for a black thinker to give voice to an intelligent version of the Represser narrative. Sufficiently talented black thinkers have been happy to oblige (e.g. Loury 2009). Various media organisations and political groups likey provide opportunity for similar pseudo-spokespeople PoC intelligentsia catering to both Repressers and Repenters.

The most-correct move, however, according to Bright, is not to hop on either of these bandwagons but instead to be a Non-Aligned person who focuses on directly addressing the underlying material inequalities:

Hence as long as the material inequalities exist they will keep making racial hierarchy salient whatever the Repressers want, and keep generating reasons for guilt whatever the Repenters want. All of the institutions designed to respond to this culture war — which is essentially all of the epistemic institutions controlled by the white bourgeois, which is to say all of them — are thus fundamentally addressing the wrong questions from the point of view of the Non Aligned person. They are concerned with managing the results of a tension they can never resolve, which the nature of the Repenter and Repressor conflict will not allow them to resolve. They are not arranged to produce information, or set an agenda, that will aid in resolving material in- equality, and in fact will forever be supplied with more culture war flashpoints on which to focus and with which to distract.

This is basically what I think, which is why I'm always trying to remind people that Martin Luther King Jr. was very focused on kitchen-table economic issues and, perhaps even more importantly, that he saw the path forward as forging a political alliance with self-interested low-income white people, not cultivating a class of guilt-ridden high-status Repenters.

But I want to emphasize the practical aspects of this and the dilemmas it entails.

Increasing the salience of race is bad

In a new paper from Jesper Akesson, Robert Hahn, Robert Metcalfe, and Itzhak Rasooly, the authors share the results of their randomized experiments on race and welfare:

First, 86% of respondents greatly overestimate the share of welfare recipients who are Black, with the average respondent overestimating this by almost a factor of two.

Second, White support for welfare is inversely related to the proportion of welfare recipients who are Black — a causal claim that we establish using treatment assignment as an instrument for beliefs about the racial composition of welfare recipients.

Third, just making White participants think about the racial composition of welfare recipients reduces their support for welfare.

Fourth, providing White respondents with accurate information about the racial composition of welfare recipients (relative to not receiving any information) does not significantly influence their support for welfare

This is new research in the sense that the experiment is novel, but the broad conclusions are recognizable across multiple economic literatures. Alberto Alesina, Edward Glaeser, and Bruce Sacerdote find, using international comparative data, that "racial animosity in the US makes redistribution to the poor, who are disproportionately black, unappealing to many voters." And in their excellent book "Us Against Them: Ethnocentric Foundations of American Opinion," Donald Kinder and Cindy Kam find that among white people, possession of ethnocentric views correlates with hostility to means-tested public assistance programs.

A deep body of scholarship across history, political science, and economics all broadly point toward the conclusion that increasing the salience of race can have harmful results.
12) Jesse Singal, "The University of Washington Is Putting Trans Kids At Risk By Distorting Suicide Research" OMG talk about politicized science.  This stuff is just horrible.  Any half-decent first-year grad student would see the grave methodological flaws.  But, when it fits a popular ideological agenda…
13) Exciting progress on RSV vaccines.  I actually qualified for a trial, but, in the end they wouldn't let me because I am still technically in the J&J Covid vaccine trial until November (I have a phone call then– that's it). 
In February 2020, just as a new coronavirus was triggering the global COVID-19 pandemic, structural biologist Jason McLellan and his team published the structure of the key protein it uses to invade human cells1. Immediately, scientists began using that protein's structure to develop COVID-19 vaccines.

But that wasn't the first time McLellan, now at the University of Texas at Austin, had solved a structure and spurred on a new wave of vaccines. In 2013, he was focusing on a different killer — respiratory syncytial virus, or RSV2.

RSV causes a respiratory tract infection that affects 64 million people per year worldwide. It hospitalizes 3 million children under 5 years old and approximately 336,000 older adults annually (see 'Common scourge'). The global health-care costs of RSV-associated infections in young children in 2017 were estimated to be US$5.45 billion3.

Researchers have been trying for decades to develop a vaccine, and have had some particularly devastating failures — including the deaths of two participants in a trial in the 1960s.

Solving the protein structure revived the RSV field. McLellan, then a postdoctoral researcher at the US National Institute of Allergy and Infectious Diseases in Bethesda, Maryland, and his colleagues looked at a protein that the virus uses to fuse with cells and infect them, called the F protein, and found a way to stabilize it in its prefusion form — the shape it adopts when ready to grab on to cells. The structure of the prefusion F protein unveiled the best target for making vaccine-induced antibodies that could prevent the virus from entering human cells.

Now, an effective RSV vaccine is nearly within reach: four candidates and one monoclonal antibody treatment are in late-stage clinical trials.
14) You know I'm a sucker for AI art, "AI Art Is Here and the World Is Already Different How we work — even think — changes when we can instantly command convincing images into existence."
15) Loved learning that Bill Gates, too, is a wordle addict. 
16) Holy Affective polarization Batman! "A new political divide: Nearly half of college students wouldn't room with someone who votes differently"
17) Actually, pretty interesting stuff here, "The Sordid Saga of Hunter Biden's Laptop"
Imagine the entirety of your digital existence plotted out before you: your accounts and passwords; your avatars; your contacts; every exchange of written dialogue; the full history of your logged interests, banal and forgettable and closely held; the note where you scrawled once-urgent word fragments that now make zero sense to you; the rabbit holes you fell down or the minor obsession or the thing that connected to the thing that led you to decide to do another thing that became a part of a part of a part of who you are, or a part of who you are to some people, or a part of who you are only to yourself, barely recognizable in the light of day. Your selfies. Your sexts. Your emails. Your calendar. Your to-do list. Your playlists. Your tabs.

Now imagine that you are both the son of a man running for president and a lawyer and lobbyist accustomed to mixing with powerful people and doing business overseas premised on your proximity to those powerful people, and that you are in the throes of a divorce and a midlife catastrophe brought on by the early death of your older brother and that, in your distortion field of grief, on a hell-bent drug-and-alcohol binge, you have been making even more horrible choices, taking up with your brother's widow and, while in considerable financial debt, hiring prostitutes and zoning out with camgirls and staying awake for days at a time on crack cocaine and generally hurting everyone in your life who is trying to help you with your cruel and idiotic behavior.

And imagine that, in the middle of all of this, you lose control of 217 gigabytes of your personal data: videos in which you have sex; videos in which you smoke crack; bleary-eyed selfies; selfies that document your in-progress dental work; your bank statements; your Venmo transactions; your business emails; your toxic rants at family members; analysis from your psychiatrist; your porn searches; your Social Security number; explicit photos of the many women passing through your bedrooms, photos of your kids, of your father, of life and death, despair and boredom.

Imagine revealing this kaleidoscopic archive of all your different selves to anyone else. Now imagine it's not just anyone but the same political opposition that has already sought to destroy your father's candidacy by improperly pressuring a foreign leader to offer up dirt about your (sketchy, for sure) business dealings. Imagine, in a country with toxic and broken politics, how explosive this collection of data might appear to your enemies in the days leading up to a presidential election, and how valuable it might become after their defeat, as they seek to overturn and then undermine the results. For the sake of simplicity, let's call this nebulous cloud of data a "laptop."
18) Another excellent free Yglesias post, "Russia's military and economic strategy is failing"
The misunderstood sanctions regime

Sanctions are often understood as an effort to deny the sanctioned country export earnings by refusing to buy its products.

And since Russia is such a major energy exporter, there was a lot of skepticism that this was feasible or politically workable. Initial coverage of the sanctions regime often emphasized the fact that Russia had stockpiled large foreign exchange reserves to weather the loss of exports and the fact that the West wasn't willing to block Russia's energy exports. Pro-Russian western media often noted that even with sanctions in place Russia's trade balance was positive, and the official exchange rate of the ruble recovered rapidly from an initial speculative crash.

This all misunderstood the intention of the policy, which was not to block Russian exports but to block Russian imports.

The idea was that the West could keep spending money to give equipment to Ukraine while preventing Russia from spending money on acquiring new equipment for itself, steadily shifting the correlation of forces in Ukraine's favor. The growing Russian trade surplus was not a failure of the sanctions policy, but the condition of its success. The basic calculation is that the allies collectively have a lot more money than Russia. In terms of pre-war GDP calculated at market exchange rates, Italy had a larger GDP than Russia. So did Canada. And France. And Germany's GDP is more than twice as big, and Belgium, the Netherlands, and Portugal combine to be about as big as Russia. So the allies could afford to send a bunch of money to Russia to sit around in a treasury somewhere while Russia loses irreplaceable military equipment.

Now to be fair, it is understandable that people were confused about this because there was a big mania in both the U.S. and Europe at the start of the war to ban imports of Russian oil.

This had very little effect on anything, but oil is a fungible global commodity. I think western officials initially didn't want to do it because it's a little bit pointless and a little bit contrary to the main thrust of their strategy. But there was a lot of political enthusiasm for it and, again, it doesn't have particularly large actual effects, so why not go along with it? But all the attention the oil embargo got made it seem like the allies were trying to deny Russia export earnings, which then made the fact that they kept having high export earnings by selling oil to neutral countries and gas to Europe seem like a big failure.

But the oil saga was a virtue-signaling sideshow. The point of the sanctions was to make Russia's money useless (which is why a tourist visa ban makes sense), not to prevent Russia from getting money. The hope was that Russian energy exports would keep powering the world economy.
19) Nate Cohn, "Yes, the Polling Warning Signs Are Flashing Again: Democrats are polling well in exactly the places where surveys missed most in 2020."
That warning sign is flashing again: Democratic Senate candidates are outrunning expectations in the same places where the polls overestimated Mr. Biden in 2020 and Mrs. Clinton in 2016.

Wisconsin is a good example. On paper, the Republican senator Ron Johnson ought to be favored to win re-election. The FiveThirtyEight fundamentals index, for instance, makes him a two-point favorite. Instead, the polls have exceeded the wildest expectations of Democrats. The state's gold-standard Marquette Law School survey even showed the Democrat Mandela Barnes leading Mr. Johnson by seven percentage points.

But in this case, good for Wisconsin Democrats might be too good to be true. The state was ground zero for survey error in 2020, when pre-election polls proved to be too good to be true for Mr. Biden. In the end, the polls overestimated Mr. Biden by about eight percentage points. Eerily enough, Mr. Barnes is faring better than expected by a similar margin.

The Wisconsin data is just one example of a broader pattern across the battlegrounds: The more the polls overestimated Mr. Biden last time, the better Democrats seem to be doing relative to expectations. And conversely, Democrats are posting less impressive numbers in some of the states where the polls were fairly accurate two years ago, like Georgia.
20) This was a good, but tough, read, "Does My Son Know You? Fatherhood, cancer, and what matters most"
21) "What Makes Your Brain Different From a Neanderthal's?"
Scientists have discovered a glitch in our DNA that may have helped set the minds of our ancestors apart from those of Neanderthals and other extinct relatives.

The mutation, which arose in the past few hundred thousand years, spurs the development of more neurons in the part of the brain that we use for our most complex forms of thought, according to a new study published in Science on Thursday.

"What we found is one gene that certainly contributes to making us human," said Wieland Huttner, a neuroscientist at the Max Planck Institute of Molecular Cell Biology and Genetics in Dresden, Germany, and one of the authors of the study.

 

The human brain allows us to do things that other living species cannot, such as using full-blown language and making complicated plans for the future. For decades, scientists have been comparing the anatomy of our brain to that of other mammals to understand how those sophisticated faculties evolved.
22) I have no doubt that SEAL training should be rigorous and weed out all but the most-qualified candidates.  That said, I have significant doubt as to the extreme nature of the current process is actually the way to get the best SEALs. "Navy Orders High-Level Outside Investigation of SEAL Course: The punishing selection course for the Navy's most elite force has come under new scrutiny after a sailor's death exposed illicit drug use and other problems."
23) And this is terrific, "Death in Navy SEAL Training Exposes a Culture of Brutality, Cheating and Drugs: The elite force's selection course is so punishing that few make it through, and many of those who do resort to illicit tactics."
The Navy has made hundreds of changes over the years meant to improve safety and increase graduation rates. At the same time, the SEALs who run the course have quietly resisted anything they see as lowering standards. So no matter how much the Navy has tried to make BUD/S easier, it seems to only get harder.

In the 1980s, about 40 percent of candidates graduated. Over the past 25 years, the average has dropped to 26 percent. In 2021, it was just 14 percent, and in Seaman Mullen's class this year, less than 10 percent.

When Seaman Mullen started BUD/S in January, it was his second attempt. His first try was in August 2021, and he had spent more than a year running, swimming and lifting weights to prepare. He lasted less than a day.

Instructors call the first three weeks of BUD/S the attrition phase, a maw of punishing exercise, frigid water and harassment meant to wash out anyone lacking strength, endurance and mental fortitude — individuals the instructors derisively call "turds."

That first day, the instructors put candidates through a gantlet of running, crawling, situps and push-ups on the hot sand with no breaks, Seaman Mullen's mother said. Late in the afternoon, the men were racing in teams, carrying 170-pound inflatable boats over their heads, when Seaman Mullen passed out…

Heatstroke, concussions, fractures, muscle tears and lung issues are common at BUD/S, one Navy medical employee at the SEAL training base in Coronado said, but the injuries are often dealt with internally, which avoids scrutiny from outside the SEALs. Often, the employee said, injured candidates are encouraged to quit the course voluntarily, instead of being pulled out by medical staff, and their injuries are never formally reported to the Navy command that oversees workplace accidents…

In any other job, pushing people to exhaustion while fluid floods their lungs would seem reckless, but it has been happening in Hell Week for so long that the practice has come to seem somewhat normal, according to Mr. Milligan, the historian. He went through Hell Week in 2001 and said a man in his class who had fluid in his lungs was given medication through a nebulizer, a practice Mr. Milligan said was "not uncommon." A few hours later, while the class was swimming in a human chain in a pool, the man slipped from Mr. Milligan's grasp, sank to the bottom and died.
24) This seems… not great, "A Dad Took Photos of His Naked Toddler for the Doctor. Google Flagged Him as a Criminal."
Mark noticed something amiss with his toddler. His son's penis looked swollen and was hurting him. Mark, a stay-at-home dad in San Francisco, grabbed his Android smartphone and took photos to document the problem so he could track its progression.

It was a Friday night in February 2021. His wife called an advice nurse at their health care provider to schedule an emergency consultation for the next morning, by video because it was a Saturday and there was a pandemic going on. The nurse said to send photos so the doctor could review them in advance.

 

Mark's wife grabbed her husband's phone and texted a few high-quality close-ups of their son's groin area to her iPhone so she could upload them to the health care provider's messaging system. In one, Mark's hand was visible, helping to better display the swelling. Mark and his wife gave no thought to the tech giants that made this quick capture and exchange of digital data possible, or what those giants might think of the images.

With help from the photos, the doctor diagnosed the issue and prescribed antibiotics, which quickly cleared it up. But the episode left Mark with a much larger problem, one that would cost him more than a decade of contacts, emails and photos, and make him the target of a police investigation. Mark, who asked to be identified only by his first name for fear of potential reputational harm, had been caught in an algorithmic net designed to snare people exchanging child sexual abuse material.

Because technology companies routinely capture so much data, they have been pressured to act as sentinels, examining what passes through their servers to detect and prevent criminal behavior. Child advocates say the companies' cooperation is essential to combat the rampant online spread of sexual abuse imagery. But it can entail peering into private archives, such as digital photo albums — an intrusion users may not expect — that has cast innocent behavior in a sinister light in at least two cases The Times has unearthed…

After setting up a Gmail account in the mid-aughts, Mark, who is in his 40s, came to rely heavily on Google. He synced appointments with his wife on Google Calendar. His Android smartphone camera backed up his photos and videos to the Google cloud. He even had a phone plan with Google Fi.

Two days after taking the photos of his son, Mark's phone made a blooping notification noise: His account had been disabled because of "harmful content" that was "a severe violation of Google's policies and might be illegal." A "learn more" link led to a list of possible reasons, including "child sexual abuse & exploitation."

Mark was confused at first but then remembered his son's infection. "Oh, God, Google probably thinks that was child porn," he thought.

In an unusual twist, Mark had worked as a software engineer on a large technology company's automated tool for taking down video content flagged by users as problematic. He knew such systems often have a human in the loop to ensure that computers don't make a mistake, and he assumed his case would be cleared up as soon as it reached that person…

In a statement, Google said, "Child sexual abuse material is abhorrent and we're committed to preventing the spread of it on our platforms."

 

A few days after Mark filed the appeal, Google responded that it would not reinstate the account, with no further explanation.
25) We'll end with a fun one, "His emotional support animal is an alligator. They sleep in the same bed."