Quick hits (part II)
1) Meant to post this a couple weeks ago, "KFF COVID-19 Vaccine Monitor: In Their Own Words, Six Months Later."  To be clear, why people say they don't want a vaccine and why they did not actually get a vaccine likely have a pretty modest correlation, but, interesting nonetheless:
Key Findings

At the beginning of 2021 as vaccine distribution began in the U.S., KFF conducted interviews with a nationally representative sample of adults using open-ended questions to better understand public concerns around receiving a COVID-19 vaccine. Six months later, we recontacted these individuals to find out whether they chose to receive a COVID-19 vaccine, their reasoning behind their decisions, and how they are feeling about their choice.

The vast majority (92%) of those who planned to get vaccinated "as soon as possible" in early 2021 have received at least one dose of a COVID-19 vaccine, as have slightly more than half (54%) of individuals who had previously said they wanted to "wait and see" before getting vaccinated. On the other hand, a majority (76%) of people who had previously said they would "only get vaccinated if required" or said they would "definitely not" get a COVID-19 vaccine remain unvaccinated.
One-fifth of adults (21%) now report being vaccinated after saying in January they planned on waiting to get vaccinated, would only get it if required, or would definitely not get vaccinated. Many of these individuals noted the role of their friends and family members as well as their personal doctors in persuading them to get a vaccine. Seeing their friends and family members get vaccinated without serious side effects, talking to family members about being able to safely visit, and conversations with their personal doctors about their own risks were all persuasive factors for these individuals. A small but meaningful share also say the easing of restrictions for vaccinated people was a factor in their decision to get a vaccine.
When asked to name the feeling that best describes how they feel now that they have been vaccinated, nearly a quarter of vaccinated adults offer responses around feeling safe (24%) and relieved (22%). Other positive feelings reported were freedom, confidence, and more certainty that if they did get COVID-19 it would be less serious or they were less likely to die from it. And while most respondents react with some positive emotion, one in ten said they felt the same or neutral. This feeling was more common among those who initially said they would "wait and see" in January or who said they would only get vaccinated if required or would not get vaccinated.
Conversations with family members and friends have played a major role in persuading people to get vaccinated. Two-thirds of vaccinated adults say they have tried to persuade their friends and family members to get a COVID-19 vaccine, and 17% of adults who are now vaccinated after saying in January they planned on waiting to get vaccinated, would only get it if required, or would definitely not get vaccinated, say they were persuaded to do so by a family member and 5% say they were persuaded by a friend. In addition to this, others cite protecting friends and family members as the main reason for getting vaccinated and others offer being able to see their friends and family members as well as family pressure or encouragement as the main reasons why they chose to receive a vaccine.
About one-fourth of those who previously said they planned on getting vaccinated "as soon as possible" or were wanting to "wait and see" before getting a vaccine, remain unvaccinated six months later. Some of these individuals either have an appointment to get a vaccine or still plan on getting it as soon as they are able, but one in ten (6% of total) now say they either will "only get vaccinated if required" or say they will "definitely not" get a vaccine. When asked what changed their mind, many offer concerns about the side effects of the vaccine as the reasons why they now do not plan on getting vaccinated.
Being concerned about side effects is the top reason offered by unvaccinated people for why they haven't gotten a COVID-19 vaccine. When asked what would motivate them to get vaccinated against COVID-19, most in the "wait and see" group say they just want more time to see how the vaccine affects others who have already gotten it.
2) Good stuff from Margaret Sullivan, "Our democracy is under attack. Washington journalists must stop covering it like politics as usual."
Ornstein and Mann didn't use the now-in-vogue terms "both-sidesism" or "false equivalence," but they laid out the problem with devastating clarity (the italics are mine):

"We understand the values of mainstream journalists, including the effort to report both sides of a story. But a balanced treatment of an unbalanced phenomenon distorts reality. If the political dynamics of Washington are unlikely to change any time soon, at least we should change the way that reality is portrayed to the public."

Nearly a decade later, this distortion of reality has only grown worse, thanks in part to Donald Trump's rise to power and his ironclad grip on an increasingly craven Republican Party.

Positive proof was in the recent coverage of congressional efforts to investigate the Jan. 6 insurrection at the Capitol…

This strain of news coverage, observed Jon Allsop in Columbia Journalism Review, centers on twinned, dubious implications: "That bipartisanship is desirable and that Democrats bear responsibility for upholding it — even in the face of explicit Republican obstructionism."

This stance comes across as both cynical ("politics was ever thus") and unsophisticated ("we're just doing our job of reporting what was said"). Quite a feat.

Mainstream journalists want their work to be perceived as fair-minded and nonpartisan. They want to defend themselves against charges of bias. So they equalize the unequal. This practice seems so ingrained as to be unresolvable.

There is a way out. But it requires the leadership of news organizations to radically reframe the mission of its Washington coverage. As a possible starting point, I'll offer these recommendations:

Toss out the insidious "inside-politics" frame and replace it with a "pro-democracy" frame.

Stop calling the reporters who cover this stuff "political reporters." Start calling them "government reporters."

Stop asking who the winners and losers were in the latest skirmish. Start asking who is serving the democracy and who is undermining it.

Stop being "savvy" and start being patriotic.
3) Anne Applebaum who really gets threats to democracy, "The MyPillow Guy Really Could Destroy Democracy."
4) I mean, surely we would should be getting 1st and 2nd shots out to the rest of the world before we start offering ordinary Americans (immunocompromised is a different story) 3rd shots.  But, also, everything in the world is actually similarly unfair– should we really expect vaccines to be any different? "COVID boosters for wealthy nations spark outrage: Nations short of vaccine should get first doses to curb the pandemic, researchers say."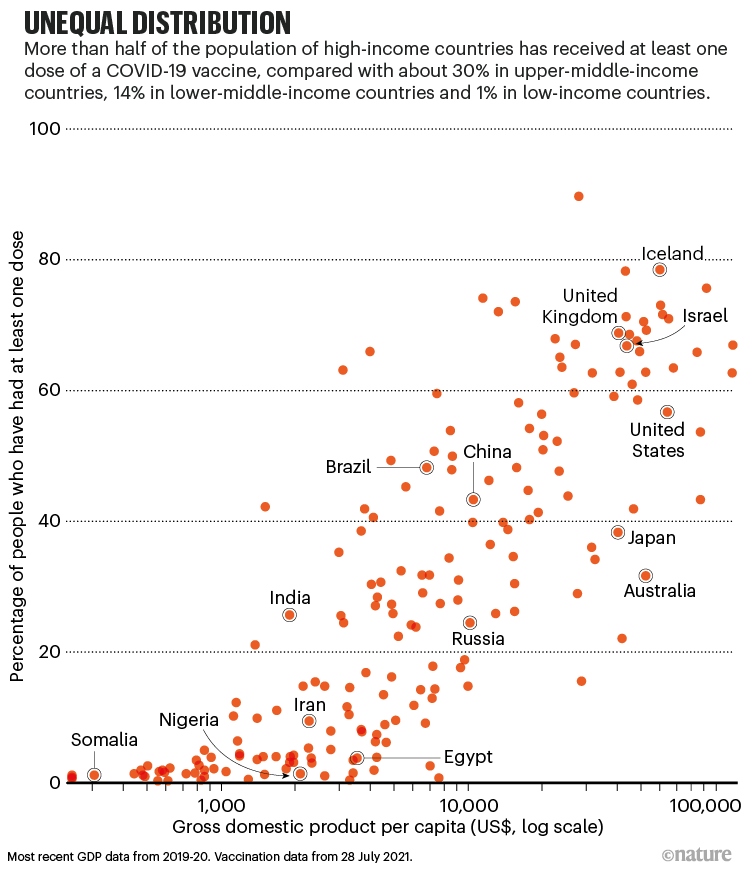 5) Katherine Wu makes the case for vaccines and masks under Delta:
Partnering masks and vaccines is, in many ways, a natural move. If an unmasked, unvaccinated body is like an unprotected bank, vulnerable to burglars, these two tools are akin to the different high-security measures used to prevent a heist. Shots steel the institution from the inside out, papering its walls with most-wanted posters and alerting bank personnel to upswings in local crime. Supersensitive alarms get installed at windows; extra security guards are stationed throughout the building; the local sheriff's office is put on speed dial. Should thieves try to force their way in, they'll be recognized as familiar foes and get arrested on the spot, maybe before any real damage can be done.

COVID-19 vaccines have proved themselves ace at deploying these safeguards and preventing symptomatic disease, especially in its most severe forms, even when tangoing with variants. That is the classic vaccination modus operandi: fortifying our defenses so a pathogen has higher hurdles to clear.

But even vaccinated immune systems can be somewhat foiled when local conditions change. A well-armored bank will still be better off than an unsecured one, but could struggle to thwart career criminals—ones who are savvy enough to show up en masse,move fast, and use brutal tactics. And more of those robbers might make it out of the scuffle unscathed and eager to hit up a neighboring bank. Vaccine-prepped immune systems are still mostly clobbering Delta, the SARS-CoV-2 variant that's now found in 80 percent of the virus samples being sequenced across the nation: People who have gotten all their shots are a lot less likely to experience symptoms, hospitalization, or death, and don't seem to be responsible for much virus transmission. But Delta also appears to be especially good at accumulating in airways, and seems to eke past some of our immune defenses. These troubling traits might make it easier for the virus to mildly sicken some inoculated individuals, and perhaps spread from them as well. Vaccines are an imperfect shield; variants like Delta find their way through the cracks.

Masks cut down on all of this risk. If vaccines shore up security from the inside, face coverings (which, you know, literally cover your face) erect a sturdy blockade around the bank's exterior—fences, bars, better locks, and ID checks at an intruder's typical point of entry. Masks are physical barriers; they're "great at preventing exposure to large doses of virus" before the invaders even enter the premises, Iwasaki said. And in the same way that it's easier for security guards to incapacitate just a few crooks busting through the door, "the less virus you need to fight off, the better—I think that's pretty clear," Marion Pepper, an immunologist at the University of Washington, told me. Masks, in other words, curb the amount of labor our immune systems are forced to do—in some cases, maybe eliminating the threat entirely. In that way, they accomplish something vaccines can't: Unlike immune cells, they don't have to wait until after the virus has broken into the body to act. That's an especially big asset for people whose bodies are less equipped to respond to vaccines, including the elderly and the immunocompromised, populations the CDC says should mask more vigilantly indoors, regardless of where they live.
6) I'm about 6 years behind on "Nathan for You" (enjoying it on my glitchy HBO Max) and I must say I love when the show's preposterous stunts breakthrough into real media.  The episode on "The Movement" workout routine was just brilliant.  
7) I watched a Russian men's gymnast compete this week who completely tore his Achilles in April and I just cannot even believe at all that he did this.  
8) I haven't watched any Ted Lasso yet, but I plan on bingeing it once the Olympics is over.  Really enjoyed this James Poniewozik essay on how TV has evolved, "How TV Went From David Brent to Ted Lasso: Two decades ago, TV's most distinctive stories were defined by a tone of ironic detachment. Today, they're more often sincere and direct. How did we get here?"
In TV's ambitious comedies, as well as dramas, the arc of the last 20 years is not from bold risk-taking to spineless inoffensiveness. But it is, in broad terms, a shift from irony to sincerity.

By "irony" here, I don't mean the popular equation of the term with cynicism or snark. I mean an ironic mode of narrative, in which what a show "thinks" is different from what its protagonist does. Two decades ago, TV's most distinctive stories were defined by a tone of dark or acerbic detachment. Today, they're more likely to be earnest and direct. [emphases mine]

You can see this change in the careers of some of the medium's biggest stars and in its creative energy overall. You could chalk the shift up to burnout with cringe comedies and antihero stories, to exhaustion with the cultural weaponization of irony, to changes in the viewership and creators of TV — to all these and more.

But the upshot is that, if David Brent would be out of place in 2021, it wouldn't be because of the strictures of some cultural human-resources department; it would be because of the current vogue for TV that says things, for better or worse, like it means them.

Watchable, Not Likable

Earlier this summer, my fellow Times critics and I put together a list of the 21 best American comedies of the past 21 years. It runs chronologically — I hate ranked lists that turn art into math — which has the side benefit of showing you TV history in time-lapse form.

It kicks off with the likes of "Curb Your Enthusiasm," "Arrested Development" and the American "Office": series with comically obnoxious or oblivious protagonists. It ends with the warm dramedy "Better Things" and the coming-of-age buddy comedy "PEN15": big-hearted shows whose main characters may be imperfect or awkward, but whom you are meant to identify with.

If the patron imp of early-aughts comedy was Gervais's David Brent — self-centered, desperate to be liked, casually vulgar and insulting to his staff — the essential face of comedy today might be Ted Lasso, the earnest American-transplant soccer coach in England who quotes Anne Lamott, encourages his players to be psychologically healthy and bakes cookies for his boss. He's so sweet you could box him up like shortbread.

At heart, the original "Office" and "Ted Lasso" (which just scored 20 Emmy nominations) are both about the importance of kindness and empathy. Gervais's show may be even more morally didactic; it has a sentimental, even maudlin streak that has become all the more pronounced in his later comedies, like "After Life." But it makes its case ironically and negatively, expecting you to infer its judgment on David Brent from the reactions of other characters, and from your own.

What was going on at the turn of the millennium? "The Office" and company followed on the "Seinfeld" and David Letterman era of High Irony, a time when a literary device was enough of a cultural concern to inspire magazine covers, books and premature obituaries. They were also of a piece with dramas like "The Sopranos," which asked you to like watching their protagonists without like-liking them.

Antiheroes existed in art long before Tony whacked his first victim. Dostoyevsky created them; Northrop Frye wrote about them. And earlier TV dabbled in difficult protagonists, like Archie Bunker of "All in the Family." But they were a harder sell for television, which required much broader audiences than literary fiction — or did, before outlets like HBO came along.

The common thread of antihero drama and cringe comedy is the assumption that audiences could and should be able to distinguish between the mind-set of the protagonist and the outlook of the author. They asked you to accept dissonance within the story and within yourself: You could see Tony as an animal while acknowledging the beast in you that resonated with him, you could see Larry David as a jackass while recognizing that you found it thrilling.
And, yeah, that's definitely my favorite mode of storytelling.
9) This is true, "America's COVID-19 Air Travel Rules Are Insane"
If you want to see how warped the current U.S. COVID-19 travel restrictions are, consider this: in 2019, there were 15.4 million air passenger arrivals from Mexico, almost 7 times the number from Italy. Today, despite Mexican COVID-19 prevalence being higher than in Italy, Delta variant cases permeating both countries, and Italy having administered well over double the number of Mexico's vaccinations per 100 people, entry for non-Americans from Italy to the U.S. is banned, but people can fly in from Mexico irrespective of their vaccination status.

Despite months of clarity that the current COVID-19 U.S. air travel passenger rules defy basic logic, though, the White House remains stubbornly unmoved. "Given where we are … with the Delta variant," press secretary Jen Psaki said Monday, "we will maintain existing travel restrictions." There was no acknowledgement of the incoherence of the current orders in terms of the countries they apply to, the people they apply to, or the changing context of COVID-19 in a world of vaccinations, let alone the dreadful impact of the rules on families and the economy.
10) Great, great stuff from David Epstein on athletes and mental health through the eyes of a former champion bobsledder.  Just read it.
11) Enjoyed Freddie deBoer on what's wrong with the internet through his experience of writing his substack.
This is an consistent reality about writing for the internet, at least in my experience: the vast majority of the people who would prefer you to write something other than that which gives the most engagement will not reward you for doing that something else with their engagement. They have a vision of what your work could be that they will happily share with you, but they won't actually read any of it when you try to put those principles into practice. Look, I'm not trying to be overly deterministic here; I still write mostly based on personal whim, I have zero long term tracking or plans for what I write in a given week or month, and I don't sit around saying "how can I please those Facebook critics?" But it's simply not realistic to be truly indifferent to quantitative rewards, and I would have to fly completely blind in this project to remain ignorant of the fact that the more I produce the content many people say they want, the worse this newsletter performs. Allow me to illustrate.

These categories are chosen purposefully. Getting salty about media is my most consistent click-generator and money-maker and is also what most people say they would prefer I do less often or not at all. Education research/policy posts are probably the single most-requested type of post in emails and comments, and because they could plausibly get a lot of engagement, it makes the comparison more fair. (As you see, the top-performing education post did pretty well.) I do other types of writing that don't get many views at all, but I don't expect them to. My favorite type of piece I do here is things like my review of Jenny Offill's Weather, but I go in to those knowing that they won't do numbers and I consider the opportunity to produce them part of the gift of artistic freedom I'm lucky to have. The issue is that, if I want this to continue being financially viable as my job long-term, it's hard to look at that table and not realize what I'm losing by giving up the upper rows and emphasizing the bottom.
12) Oh, and, hey, this was a really, really unexpected surprise for my largely-ignored twitter feed.
Maybe he stumbled across all the good Covid stuff I retweet?
13) Good stuff in the Upshot, "What Improves the Chances of Solving a Murder? Speedy work is helpful, but it's not the main factor in clearing a case, research finds."
"The First 48," a documentary on A&E about solving murders, has produced more than 450 episodes since its 2004 debut. The show's title sequence tells us homicide detectives' chances of solving a murder are "cut in half if they don't get a lead within the first 48 hours."

It's hard to verify this claim because such data is not systemically tracked, but "my experience is that it's not true," said John Skaggs, a retired detective from the Los Angeles Police Department who supervised more than 200 homicide investigations and was the protagonist in the 2015 book "Ghettoside" by Jill Leovy."Sometimes it takes a few days for something to develop."

Research suggests that the reality is indeed more complex, but that one key to solving a murder is straightforward: devoting more hours to it, which usually involves more investigators…

Mr. Skaggs says about 15 percent to 18 percent of all murders are "self-solvers." They are easy cases because "there is a smoking gun when the cops get there or it's on video." All others require more effort. Beyond the circumstances of the crime, two factors — the weapon used, and the resources dedicated to solving the crime — largely determine the success of a murder investigation.

Fatal shootings are harder to solve quickly than other kinds of murders. In Oakland, Calif., for example, 82 percent of stabbing murders that were solved were cleared within a week, compared with 32 percent of firearm murders.
14) If you haven't noticed, women's gymnasts have been getting older.  Very good stuff at 538:
In the lead-up to the Tokyo Olympics, stories were being written about the increasing age of female gymnasts, pointing out that the sport, once thought to be the exclusive domain of young teens, can be done — and done exceptionally well — by gymnasts who are in their late teens or even their 20s. After all, the average age for a female gymnast in these Olympics is just under 22 years. But the focus has been almost exclusively on the end of a gymnast's career. Far less attention is being paid to how early a gymnast's specialization starts and how that has the potential to affect how one's final years look. There's even less focus on how the sport can better accommodate gymnasts so they may extend their careers beyond what had long been thought impossible.

This change — which really has been underway for more than a decade, if not longer — is welcome, but it doesn't signify a fundamental shift in how we approach training gymnasts. It doesn't challenge the timeline that puts gymnasts on pace to being at their "peaks," or at least a first "peak," when they're just 15 or 16 years old. It doesn't question what is generally taken as an article of faith in the gymnastics community — that gymnasts have to train upward of 20 hours a week before they even hit their teen years just to have a shot at an Olympic team or a college scholarship. It is this timeline, which was built around the erroneous belief that female gymnasts had a narrow competitive window in their teens, that needs to be dismantled and rebuilt. If we want adult women to thrive in gymnastics, we have to change how their preteen and early teen years look.
15) And a really good feature in the NYT, "What If Everything We Know About Gymnastics Is Wrong? In the wake of a seismic scandal, Chellsie Memmel and other gymnasts are done with inhumane coaching — and the idea that they have to peak in their teens."
16) Zaid Jilani, "Progressive Denial Won't Stop Violent Crime"
Rising anxiety about crime will fuel support for policies that Ocasio-Cortez is opposed to. Many on the left feel understandably outraged about police abuses, and worry that using policing as a tool to combat crime will only harm people in the most vulnerable communities. But if progressives pay close attention to people in those high-crime communities, they'll discover that residents generally want both police reform to prevent abuses and more effective policing to tackle crime…

One progressive who promotes that message is former Georgia State Senator Vincent Fort, who spent decades working on gun-violence issues in Atlanta, where homicides are up nearly 60 percent over the past year.

Fort primarily blames underlying socioeconomic factors for crime in the city, but he also thinks that an ever-expanding network of gangs and easy access to guns are fueling the violence. He senses little contradiction between tackling crime and promoting police reform. "I've been in courtrooms … not just fighting, you know, against over-policing, but I've been in the courtrooms sitting with the victims of violent crime," he told me. "I'm equally comfortable standing with the victims of gun violence."…

In the minds of many progressives, acknowledging cases like Ansari's and the demand by those who are most at risk for policing to combat crime would only offer ammunition to conservatives and other supporters of the carceral state. John Pfaff, a prominent progressive criminologist, recently argued that "those who favor the status quo are trying to use the rise in homicides as grist for rolling back policies they dislike."…

I'm sure that many progressives don't buy the argument that quality policing is essential to controlling violent crime, but many voters do. The recent Democratic primaries in New York City provide an example of how progressives, when they are unable to address the public's concerns about crime, will pay for it at the ballot box. Although the left found some success down the ballot, capturing the Democratic nomination for comptroller and a number of city-council spots, progressives found themselves overwhelmed in the mayoral race.
17) Great conversation on crime between Yascha Mounk and Patrick Sharkey:
Mounk: What do we know about the ways in which this may have been caused by the pandemic? Or do we really need to look for other factors?

Sharkey: It wasn't just the suffering that came about because of the pandemic, and it wasn't just people being locked down. It was [also] the breakdown of social institutions that bring us together and that provide the foundation for every community across the country. I'm talking about schools, but also libraries and parks and playgrounds. Those public spaces were shut down, in addition to community centers, after-school programs and summer jobs programs, and so forth. Those sorts of institutions provide the foundation for social order, and when those institutions shut down, people retreat to their homes. It doesn't make every community more violent, but it makes every community more vulnerable to violence. When public spaces are abandoned, and institutions start to shut down, it creates the possibility for violence to emerge. So I think that was the starting point. [But] we didn't see the explosion of violence until later in the year. That gives us a hint that it wasn't all about the pandemic. 

First, you had the pandemic and lockdown. While that was going on, we had this incredible increase in gun ownership and gun sales in the background, a record-breaking year in terms of gun sales. There is some new evidence (or at least hints of evidence) that those guns were circulating [on] the streets early in the pandemic. Jens Ludwig, maybe the best criminologist in the world, who runs the Chicago Crime Lab, put out an analysis [recently] showing that there was an increase in the number of people who were stopped and were carrying a gun in Chicago as early as March and April. And then you have the protests in late May, after George Floyd was murdered, and the reaction to it and the set of processes that that generates, which includes changes in police behavior, but also changes in residents' behavior. And that's when violence really started skyrocketing in lots of cities across the country. 

When I look at last year, lots of people are still gathering data. These are all hypotheses right now. But [at] my lab at Princeton, we've started making some progress toward an […] explanation. It's leading me to this idea that there's a confluence of three stages, or three sets of factors: (1) the pandemic, the breakdown of social institutions; (2) the rise in guns, circulating guns; and then (3) the reaction to the protests, creating [an] overall feeling—which was partly around the election and the attack on the Capitol on January 6—that the social fabric was breaking down, and everybody's on their own to deal with this set of crises…

Sharkey: The reason I called the book Uneasy Peace is because we hadn't solved the larger challenge of extreme urban inequality and all of the problems and challenges that come bundled when you have extreme inequality. By this I mean segregation, [and] how segregation then translates into vastly unequal resources across communities and vastly unequal institutions across communities—concentrated poverty, extreme housing unaffordability, and [the] severe cost burden that is often concentrated in particular communities: addiction, mental illness, homelessness, and circulation of guns. 

I make the case in the book that the model that we developed in the U.S. to deal with that was to abandon central-city neighborhoods—not try to solve those problems—and instead invest in [and] rely on the police and the prison system to deal with all of that. I think that model has been very stable since the late 1960s, when we first set along that path, and Daniel Patrick Moynihan announced the policy of "benign neglect" to deal with the problems of central cities. Even though there have been investments over time, there have not been sustained investments to deal with urban inequality. 

The police are effective at controlling violence, but it also generates all these costs: anger and resentment. And that anger and resentment grew as more and more people saw what was happening in low-income communities of color, or how law enforcement was interacting with residents. It generally generates a feeling of legal estrangement: feeling like one is not protected by the law, or one is not part of the citizenry of a city. And it also generates costs that are more tangible, in the sense of mass incarceration. Our incarceration rate had been stable throughout the history of the country until the start of the 1970s. It increased by 700% from the 1970s to 2010. The impact of that on families and communities is only starting to reveal itself, because it doesn't just affect the people who are incarcerated. It affects their entire networks, their families, and the next generation.