Quick hits (part II)
1) I meant to share this a while back– it's so good.  Zeynep shares the insights of Whitney Robinson on meta-epistemology of epidemiology.  Basically goes through how she thinks about thinking about the pandemic, "How to reason when information is incomplete, uncertain and emotionally-fraught"
Principle 1. "Look to previous phenomena to know what questions to ask"

Principle 2. "Observed versus expected." In other words, "Pay attention to unexpected data that has no natural constituency and to lack of data that are in high demand"…

Principle 3. "Beware of 'sticky' priors" 
2) Relatedly, loved this from Ellie Murray.  "I'm an epidemiologist. Here's what I got wrong about covid."  We should all do more of this.  For example, I put way too much stock in the potential value of therapeutics.  I have undoubtedly been more skeptical of findings that emphasize the role of children in transmission than those that suggest a small role.  Anyway, if you want to be a good thinker you should definitely be putting your own thinking under a skeptical focus. 
3) I really enjoyed Tim Harford's The Data Detective.  In the last chapter, he talked about the power of curiousity and combating the "illusion of explanatory depth."  I really love that idea.  Nice summary here:
If you asked one hundred people on the street if they understand how a refrigerator works, most would respond, yes, they do. But ask them to then produce a detailed, step-by-step explanation of how exactly a refrigerator works and you would likely hear silence or stammering. This powerful but inaccurate feeling of knowing is what Leonid Rozenblit and Frank Keil in 2002 termed, the illusion of explanatory depth (IOED), stating, "Most people feel they understand the world with far greater detail, coherence, and depth than they really do."

Rozenblit and Keil initially demonstrated the IOED through multi-phase studies. In a first phase, they asked participants to rate how well they understood artifacts such as a sewing machine, crossbow, or cell phone. In a second phase, they asked participants to write a detailed explanation of how each artifact works, and afterwards asked them re-rate how well they understand each one. Study after study showed that ratings of self-knowledge dropped dramatically from phase one to phase two, after participants were faced with their inability to explain how the artifact in question operates. Of course, the IOED extends well beyond artifacts, to how we think about scientific fields, mental illnesses, economic markets and virtually anything we are capable of (mis)understanding.

At present, the IOED is profoundly pervasive given that we have infinite access to information, but consume information in a largely superficial fashion. A 2014 survey found that approximately six in ten Americans read news headlines and nothing more. Major geopolitical issues from civil wars in the Middle East to the latest climate change research advances are distilled into tweets, viral videos, memes, "explainer" websites, soundbites on comedy news shows, and daily e-newsletters that get inadvertently re-routed to the spam folder. We consume knowledge widely, but not deeply.

Understanding the IOED allows us to combat political extremism. In 2013, Philip Fernbach and colleagues demonstrated that the IOED underlies people's policy positions on issues like single-payer health care, a national flat tax, and a cap-and-trade system for carbon emissions. As in Rozenbilt and Keil's studies, Fernbach and colleagues first asked people to rate how well they understood these issues, and then asked them to explain how each issue works and subsequently re-rate their understanding of each issue. In addition, participants rated the extremity of their attitudes on these issues both before and after offering an explanation. Both self-reported understanding of the issue and attitude extremity dropped significantly after explaining the issue—people who strongly supported or opposed an issue became more moderate. What is more, reduced extremity also reduced willingness to donate money to a group advocating for the issue. These studies suggest the IOED is a powerful tool for cooling off heated political disagreements.

The IOED provides us much-needed humility. In any domain of knowledge, often the most ignorant are the most overconfident in their understanding of that domain. Justin Kruger and David Dunning famously showed that the lowest performers on tests of logical reasoning, grammar, and humor are most likely to overestimate their test scores. Only through gaining expertise in a topic do people recognize its complexity and calibrate their confidence accordingly. Having to explain a phenomenon forces us to confront this complexity and realize our ignorance. At a time where political polarization, income inequality, and urban-rural separation have deeply fractured us over social and economic issues, recognizing our only modest understanding of these issues is a first step to bridging these divides. 
I'm totally going to start having my students engage in this exercise of explaining things they think they understand.
4) Good stuff from PRRI on Republicans and the Big Lie.  This chart via main news source is not all the surprising, but still kind of amazing: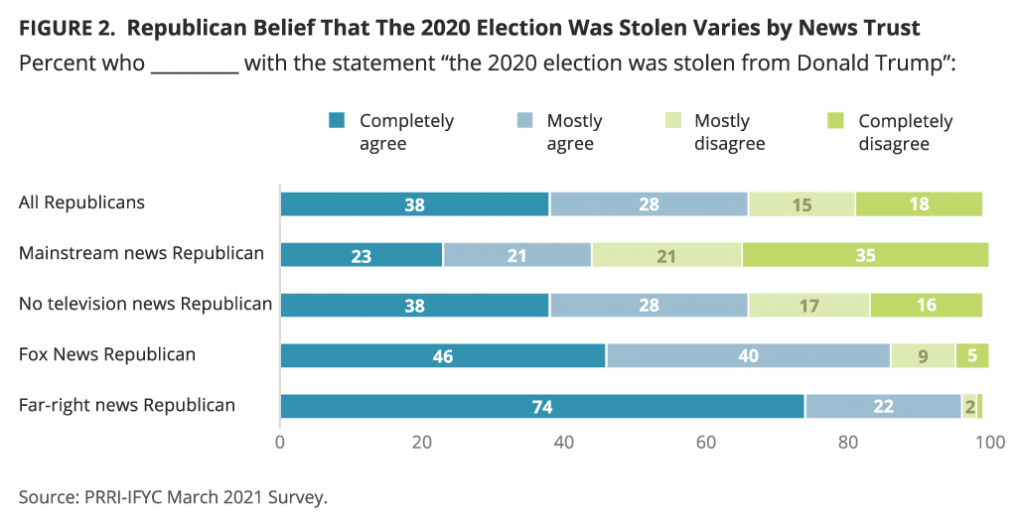 5) Good stuff from Zeynep on the Yankees outbreak:
So, yes, it does feel quite unusual for eight vaccinated people to test positive. That is almost certainly a cluster. Here's what we know: it got detected after a coach, who had some mild symptoms but now no longer has any, tested positive. Then they found seven more people who tested positive, all of whom were completely asymptomatic. Here's how the testing is done.

Everyone in the Yankees' traveling party of 50 to 60 people is being tested three times a day using polymerase chain reaction, saliva and rapid tests. Thursday was the first day of no new positive test results since the outbreak began, Cashman said. "Maybe it's slowing down," he said.

For one thing, they should sequence these cases so we know if it was a variant or not, but the incident is still not a cause for worry. Here are some of the possibilities:

1-They are all positive because of a common source, likely a highly infectious individual. These people all got a bit of the virus, and the virus was able to replicate just enough to be picked up by PCR tests that are very sensitive and can pick up even very small amounts. They are testing people three times a day with PCR tests! They'll pick up anything and everything, even the tiniest viral amount. The virus was obviously stopped in its tracks, so almost everyone is without symptoms. That sounds like a great outcome to me. 

A case of vaccine breakthrough is not the same thing as an unvaccinated or non-immune person catching COVID-19. Personally, if I had tested positive while unvaccinated, I'd be worried until it played out. Post-vaccination? For me, testing positive would be but a curiosity unworthy of my anxiety. There's a reason that vaccine trials and real world data show so few severe cases, let alone hospitalizations or deaths. Post-vaccination, the virus would no no longer be able to surprise my immune system as a novel pathogen, and I'm not that worried whether it replicates just a bit in my nose before getting shut down.

The virus in the Yankees case might even have been a variant with some antibody evading features which gives the virus a bit more time to replicate (the mutations act like a disguise that slow down but don't eliminate its eventual recognition) before the rest of the immune system shuts it down. None of the variants we have are in "disguises" (antibody evading mutations) that are 100% effective in hiding from the totality of the immune system, and it's quite likely they never will get there. 
6) Really liked this, "Stop Deriding Liz Cheney: Demanding ideological purity among those who stand up to Trump is not a viable way to protect American democracy."
Cheney deserves commendation for breaking with Trump and the GOP. The Republican Party's refusal to accept the results of a free and fair election is an existential threat to our democracy. Defenders of liberal democracy of all political stripes should be applauding her honesty, courage, and refusal to bend the knee. 

But in the pages of The New York Times, The Washington Post, The Atlantic, and progressive publications besides, journalists have been attacking Cheney. They say that it's too little too late, label her a warmonger, or complain that she's just too conservative. 

These critiques might be fair to level in a different circumstance, but raising them now as a reason not to applaud Cheney for standing up to her party is foolish. For five years, progressives asked for conservatives to come out and condemn Trump. Yet when they do, these same voices condemn conservatives within the Republican Party's ranks for the sin of remaining conservative. It is ludicrous, if not reckless, to claim that the threat to the republic is imminent, and then rebuff potential allies who don't come from the same ideological club…

Cheney could have gone along with Trump's lie and stayed in Republican leadership. By fighting back, she is potentially sacrificing a powerful future in the party. Her quick rise up the party ranks shows that she is savvy enough to have had a clear shot at becoming speaker of the House. She was a State Department official and a viable future candidate for secretary of state or defense. She may have even had a chance at winning the Republican presidential nomination in 2024 and becoming the first female president of the United States. 

Instead, she chose to be cast into the political wilderness. This might have been why she waited so long to come out against Trump. To many of us, January 6 was the climax of Trump's attacks on democracy. For Cheney, it was a wake-up call. But she finally woke up, and now she is sacrificing a potentially great future. That is worthy of admiration and praise, not scorn.

That is not to say that any progressive should become a Cheney superfan. Nor does it mean that Democrats should start agreeing with her on policy. It only means that they should welcome her efforts to preserve our liberal democracy and admire her courage.

As much as some progressives would like to do away with conservatism, America is going to have a conservative political faction with significant influence over a major party. We cannot afford to apply an ideological purity test, especially one that bans all conservatives, in our efforts to save liberalism in America. One can object to Cheney's views on foreign policy, or even oppose conservatism altogether, and still see Cheney as a welcome addition to the fight against illiberalism…

Defenders of liberal democracy in America, on both the left and the right, should take the same approach. The main political divide is no longer between conservatives and progressives, but between liberals and illiberals. Demanding ideological purity among our liberal allies is not a viable way to protect American democracy.
7) This. "To prevent next pandemic, scientists say we must regulate air like food and water"
8) This story is totally bonkers and it was also basically a one-day story.  Amazing what we're willing to just accept from all the corrupt criminals in the Trump administration, "Activists and Ex-Spy Said to Have Plotted to Discredit Trump 'Enemies' in Government: The campaign included planned operations against President Trump's national security adviser at the time, H.R. McMaster, and F.B.I. employees, according to documents and interviews."
9) Years ago I learned just how bad drug-sniffing dogs are from a paper from one of my students.  They are so bad at it! And yet, our whole criminal justice system treats them as if they are infallible.  Some dogs will basically just indicate, "yes, drugs here" every damn time you ask them.  And the way they test these dogs is some embarrassingly bad I expect many an elementary school student could explain it:
Don't blame Karma. The police dog simply followed his training when he helped local agencies impound vehicles that sometimes belonged to innocent motorists in Republic, Washington, an old mining town near the Canadian border.

As a drug detection dog, Karma kept his nose down and treated every suspect the same. Public records show that from the time he arrived in Republic in January 2018 until his handler took a leave of absence to campaign for public office in 2020, Karma gave an "alert" indicating the presence of drugs 100 percent of the time during roadside sniffs outside vehicles.

Whether drivers actually possessed illegal narcotics made no difference. The government gained access to every vehicle that Karma ever sniffed. He essentially created automatic probable cause for searches and seizures, undercutting constitutional guarantees of due process.

Similar patterns abound nationwide, suggesting that Karma's career was not unusual. Lex, a drug detection dog in Illinois, alerted for narcotics 93 percent of the time during roadside sniffs, but was wrong in more than 40 percent of cases. Sella, a drug detection dog in Florida, gave false alerts 53 percent of the time. Bono, a drug detection dog in Virginia, incorrectly indicated the presence of drugs 74 percent of the time…

False alerts, which create problems for people like Farris and Said, sometimes have nothing to do with a dog's nose. Brain scientist Federico Rossano, who studies animal communication with humans at the University of California, San Diego, says dogs have an innate sense of loyalty that can override their sense of smell.

"The tendency of producing signals even when they detect nothing comes from the desire to please the human handler," he says.

Essentially, intelligent animals pick up subtle cues from their handlers and respond. Rossano says the communication often occurs by accident without anyone being aware.

Clever Hans, a horse celebrated in the early 1900s for his math ability, provides the most prominent example. The proud owner truly believed that Hans could solve arithmetic problems, but skeptics later proved that the horse merely was responding to facial expressions and body language from his human companion.

A 2011 study from the University of California, Davis, shows how cues can influence drug detection dogs. When human handlers believed that narcotics were hidden in test areas, their canine partners were much more likely to indicate the presence of drugs—even when no drugs actually existed.

Police participants did not like the implications. But rather than using the findings to improve their training techniques, they denounced the study and refused further cooperation.

They preferred a 2014 study from Poland, which eliminated the potential for false positives. Rather than simulating real-world conditions, researchers ensured that every test included measurable quantities of narcotics.

Participating dogs had no opportunity to sniff drug-free vehicles and communicate a lack of odor. The only correct answer was an indication for drugs. Karma could have aced such a test simply by sitting down every time. He would have looked like a prodigy, but a broken dial stuck on "alert" would have achieved the same result.
10) Speaking of bad criminal justice practices… the death penalty really needs to go.  Yes, there are some people who actually "deserve" it, but not at the cost of the fact that we just keep putting innocent people on death row.  And maybe executing some innocent people. "4 Years After an Execution, a Different Man's DNA Is Found on the Murder Weapon
Lawyers' request to conduct additional DNA testing before Ledell Lee was executed had been denied."
11) Really liked this on diversity "training" at universities:
At a time when trainings are proliferating across institutions of higher learning, people could be forgiven for confusing training with education. But they are vastly different and should be seen as such especially when it comes to issues of diversity. The purpose of education, bell hooks reminds us, is critical thinking. Requiring "courage and imagination," the "heartbeat of critical thinking is the longing to know — to understand how life works." With hooks's words in mind, here are 10 ways to tell training and education apart.

Training makes assumptions; education challenges them.
Training is packaged; education cannot be contained.
Training rewards compliance, education curiosity.
Training is having to say something, education having something to say.
Training tells you what to think; education teaches you how to think.
Training answers questions; education poses them.
Training is generic; education all about context.
Training simplifies the world; education reveals its complexity.
Training promotes conformity, education independence.
Training is performative; education is transformative.

Training has its uses. It can even save lives. (See CPR above.) But training is woefully inadequate when it comes to confronting social problems such as poverty, discrimination and racism. These are long-standing, knotty and complex issues that defy ready-made solutions. Any serious effort to address them must start with education, a process for which there are no shortcuts.

Consider these two hypothetical examples of a college trying to deal with issues of race and diversity. The first is a prototypical training module; the second takes an educational approach.

In many trainings, you likely will be told that your racial identity defines who you are — and that participants will be divided into two main racial affinity groups, white and BIPOC. You will be informed that white people are oblivious to race, while BIPOC people see everything through a racial lens. You will be advised that white folks use "white talk," which is "task-oriented" and "intellectual," whereas people of color use "color commentary," which is "process-oriented" and "emotional."

It will be explained to you that traits like precision, individualism and objectivity are hallmarks of "white supremacy culture." "White supremacy" will be defined as an ideology that maintains "white people and the ideas, thoughts, beliefs and actions of white people are superior to people of color and their ideas, thoughts, beliefs and actions." In order to reveal unconscious biases, you will be made to share the racial stereotypes you hold and then catalog the racial microaggressions you have perpetrated. Finally, you will be encouraged to make a public commitment to transforming your institution into a "fully inclusive antiracist multicultural organization."
12) OMG, I really do "know" that we just cannot build our way out of traffic.  And I've read many studies like this.  But even still, it's so hard not to just want more lanes. "Asphalt, Gridlock and Common Sense: It's clear that adding lanes to urban expressways or building new ones doesn't reduce congestion. Sometimes it makes things worse. So why do we keep doing it?"
Sometimes in government, the best-laid strategies of policymakers and consultants are much less rational than ordinary common sense. Nearly everyone in America believes, correctly, that workers shouldn't be yoked to their employers for health insurance, even though we can't seem to change that. Nearly all of us can see that our zoning laws are a hodgepodge of outdated rules that ban mixed uses in neighborhoods badly in need of them. I could make a much longer list.

Other times, however, what seems the most elementary common sense turns out to be wrong. Nothing looks more obvious to most people than the idea that when a highway is choked with traffic, the solution is to expand it or build another road nearby. It looks like plain common sense, but it doesn't work. A whole slew of examples from recent history is sufficient to prove the point.

There is, to cite one clear case, the Interstate 405 freeway in Los Angeles. In the first decade of the new century, it was such a traffic-clogged mess that people would leave social engagements hours early with the excuse that they needed a head start on the 405. So it was widened in a five-year project ending in 2014 at a cost of $1.8 billion. The benefits? Not very many. Travel times actually increased once the project was finished, although rush hours shortened slightly…

FIASCOES LIKE THESE run into the reality of "induced demand," the phenomenon that lures more vehicles and more congestion to a highway after it is expanded than were there before. The idea goes back to the 1960s, when the economist Anthony Downs promulgated what he called "the law of peak-hour expressway congestion." "On urban commuter roads," Downs argued, "peak-hour congestion rises to meet maximum capacity." Traffic planners, especially those in state highway departments, refused to believe it. They went with what they considered common sense and kept expanding and widening. They made a costly mistake.

What the numbers invariably show is that highways are vulnerable to latent demand — people who haven't been using them start to fill them up once the capacity is expanded, especially at rush hour. Some are commuters who had been using public transportation; some are drivers who shift their trips to rush hour rather than the middle of the day; and some who hadn't been making trips at all take to the highway. The combined result, in many cases, is more traffic than existed prior to the expansion.

But it isn't just drivers suddenly venturing onto the highway. Expanded capacity means more development — new trucking depots and large numbers of employees who commute to work; new housing developments and shopping centers at the exits. All of this contributes to making a situation, if not greatly worse, then demonstrably no better.

Several years ago, a thorough study conducted by the University of California, Davis, for Caltrans, the state transportation agency, concluded that a 10 percent increase in the capacity of a highway led in the short term to an increase of 3 to 6 percent in traffic congestion on that road. Several years later, the study found, the additional traffic amounted to 6 to 10 percent. Other studies have found that the problem is worst on large urban highways, like the Katy Freeway or the 405. Smaller communities do sometimes get some relief from adding a lane or two to their roads. But it is in the large metro areas where most of the ambitious highway projects are launched.
13) Pretty fascinating post from Scott Alexander on prescription apps, which is pretty interesting in its own right.  In this case, the apps are for CBT-I (Cognitive Behavior Therapy for Insomnia), which I don't need, but also find very interesting.  
14) I wish we didn't live in a world where we so valued the lives of Americans over the lives of people in other countries.  Or that we weren't such a damn tribal species.  But we do and we are, so arguments like this are so fantastically unrealistic that they just annoy me, "As pediatricians, we say please don't use precious coronavirus vaccines on healthy children." I mean, in reality, you can say this about the vast majority of resources spent on Americans, period, would have way way way more impact for good if spent in developing nations.  
15) Want to read a super-depressing assessment of the state of the world?  Here's one from Noah Smith, "The Darkness: Illiberalism is on the march, all over the world."
16) So, I just came across this from 6 years ago and, immodestly, was pretty happy with my results. "A Quick Puzzle to Test Your Problem Solving"