Quick hits (part II)
1) Damn it just completely sucks how journalistic norms are hijacked, time and time again, for Republican ends.  Margaret Sullivan, "The media is helping Trump turn the bogus 'Obamagate' into the 2020 version of Clinton's emails"
Well, don't look now but this is happening again before our eyes. Its name this time is "Obamagate." That's a moniker that, in President Trump's outraged tweets, is rendered in all capital letters, but let's not.

This vaporous, apparently made-up offense, according to Trump, is the political crime of the century — and, heck, last century too, because he claims that it makes the 1970s Watergate scandal look like child's play.

As best as he's even attempted to spell out, it supposedly involves a deep-state conspiracy by the former president and his allies to undermine Trump by being informed of the identity of the private citizen having covert and legally questionable discussions with the Russian ambassador — a citizen who turned out to be Trump's national security adviser designate Michael Flynn.

Despite the fact that this practice is legal and normal, the nonscandal around it is getting plenty of attention.
2) Good God this Trump judges are just the worst and an absolute embarrassment to our legal system and the rule of law.  Mark Joseph Stern and Dahlia Lithwick:
 So it's deeply troubling to see a burgeoning new trend among conservative jurists during Donald Trump's presidency: the interjection of purely political hot takes into supposedly impartial judicial opinions. This phenomenon isn't limited to Trump appointees. Some Trump judges have already mastered this art, but it seems to have caught on among some state judges who appear to be gunning for a promotion to the federal judiciary.

The latest example comes from Michigan, whose court of appeals blocked a ban on vaping products in the state on Thursday. Judge Mark Boonstra—an appointee of former Republican Gov. Rick Snyder—joined the majority opinion striking down the ban. But he tacked on a separate 13-page polemic attacking Michigan Gov. Gretchen Whitmer's orders shutting down schools and nonessential businesses while limiting travel within the state. Whitmer has become the target of ire from the president as well as armed protesters who have occupied the state Capitol, forcing the Legislature to shut down due to safety concerns. Boonstra is now pouring gasoline on the fire. His concurrence included an ominous proclamation: "Totalitarianism has no place in America. Has it arrived? Well, that's a question for another day." While pretending to take no position on this apparently open question, Boonstra then cited far-right outlets to support his thinly veiled accusation that the governor has perhaps brought "tyranny" to Michigan.
3) Jay Rosen, "The plan is to have no plan"
The plan is to have no plan, to let daily deaths between one and three thousand become a normal thing, and then to create massive confusion about who is responsible— by telling the governors they're in charge without doing what only the federal government can do, by fighting with the press when it shows up to be briefed, by fixing blame for the virus on China or some other foreign element, and by "flooding the zone with shit," Steve Bannon's phrase for overwhelming the system with disinformation, distraction, and denial, which boosts what economists call "search costs" for reliable intelligence.

Stated another way, the plan is to default on public problem solving, and then prevent the public from understanding the consequences of that default. To succeed this will require one of the biggest propaganda and freedom of information fights in U.S. history, the execution of which will, I think, consume the president's re-election campaign. So much has already been made public that the standard script for a White House cover up (worse than the crime…) won't apply. Instead, everything will ride on the manufacture of confusion. The press won't be able to "expose" the plot because it will all happen in stark daylight. The facts will be known, and simultaneously they will be inconceivable.

"The plan is to have no plan" is not a strategy, really. Nor would I call it a policy. It has a kind of logic to it, but this is different from saying it has a design— or a designer. Meaning: I do not want to be too conspiratorial about this. To wing it without a plan is merely the best this government can do, given who heads the table. The manufacture of confusion is just the ruins of Trump's personality meeting the powers of the presidency. There is no genius there, only a damaged human being playing havoc with our lives.
4) For now, NC State is adopting what seems to be the growing university consensus– early start, no breaks, finish by Thanksgiving.  I think the limiting student travel to/from campus during breaks definitely makes sense, but this whole thing being predicated on a late Fall wave seems more than dicey to me.  Trying to predict when waves of the virus may come, more than a few weeks out, seems like a real fool's errand.
5) And damn does McSweeney's nail what we've been hearing till this week:
Dear Students, Faculty, and Staff —

After careful deliberation, we are pleased to report we can finally announce that we plan to re-open campus this fall. But with limitations. Unless we do not. Depending on guidance, which we have not yet received.

Please know that we eventually will all come together as a school community again. Possibly virtually. Probably on land. Maybe some students will be here? Perhaps the RAs can be let in to feed the lab rats?

We plan to follow the strictest recommended guidance from public health officials, except in any case where it might possibly limit our major athletic programs, which will proceed as usual.

We understand you may have concerns about the University's future, but we will take this time to emphasize that academic terms are merely units of time, and here at the University, we strongly believe in the concept of time.

In this time, more than ever, it is time for strong, decisive action.

We have decided to delay our decision.

It is our decision to delay our decision so we can decide on our decision at a later decided time.

We will make our final decision on campus reopening on a date no later than the day our closest competing universities announce their decisions and no earlier than the day after we cash your fall tuition deposit checks.

The University is here for you in this trying time. If you have any questions not answered by this email, please do not hesitate to re-read this email.

Sincerely,
The University
6) Very nice, straightforward piece from Business Insider on assessing your Covid risks.
"The general principle should be: Outside is better than inside; open is better than closed; fewer is better than more people; and stay away from sick people," Dr. Erich Anderer, a neurosurgeon and founding member of the North Brooklyn Runners group, told Insider.
7) Also, on average, Americans are much more cautious and concerned about risks than one might gather from the media.  Good polling here in the Post:
8) Okay, there's value in a personal essay from a parent of a young adult who had a very scary case of Covid.  But, put it in context and enough of the fearmongering, "My Son Survived Terrifying Covid-19 Complications: If schools reopen, how many kids won't?" because all the data so far suggests the answer to her question is… very, very few.
9) If we commit to it, we can totally due the contract tracing that's so important to controlling Covid outbreaks.  Paterson, NJ shows how it's done.
10) Derek Thompson with the strategies we should take to be safe inside.
11) Great stuff from Frum, "The System Failed the Test of Trump: The story of recent years is of institutions that were unable to constrain the presidency."
Have you ever known anyone swindled by a scam? It's remarkable how determined they remain to defend the swindler, and for how long—and how they try to shift the blame to those who tried to warn them of the swindle. The pain of being seen as a fool hurts more than the loss of money; it's more important to protect the ego against indignity than to visit justice upon the perpetrator. We human beings so often prefer a lie that affirms us to a truth that challenges us.

Americans are living now through the worst pandemic in a century and the severest economic crisis since the Great Depression. At every turn, President Donald Trump has made the crises worse. Had somebody else been president in December 2019—Hillary Clinton, Jeb Bush—fewer Americans would have met untimely deaths; fewer Americans would now be unemployed; fewer businesses would be heading toward bankruptcy.

On the eve of the 2016 election, a Pulitzer Prize–winning columnist opined in The Washington Post: "If Trump wins, he'll be held more or less in check by the House and Senate, because that's the way our system of government is set up. Not even Republicans are eager to follow Trump's lead."

I cite that column—published under the headline "Calm Down. We'll Be Fine No Matter Who Wins"—not to single it out, but precisely because it was so un-singular. The keepers of the institutions could imagine Trump testing the system. They could not imagine the system failing the test.

And yet fail it did. The story of the Trump years is a story of institutions that failed. The Department of Justice failed. The inspectors general failed. Congressional oversight failed. The national-security establishment failed. The courts failed. Trump has done things that no previous American president would ever have dared, that no previous president sank low enough even to imagine. Sometimes he was stopped, more often not. But whether stopped or not in any particular case, he has never ceased pressing ahead to do even worse the next time.

The only check remaining is that of the 2020 ballot box. Not Trump alone, but the great political party behind him, is working to ensure that election is as unfree and unfair as possible. In that effort, they have mobilized the active or tacit support of millions of Americans.
12) Good stuff from Pew, "Trust in Medical Scientists Has Grown in U.S., but Mainly Among Democrats"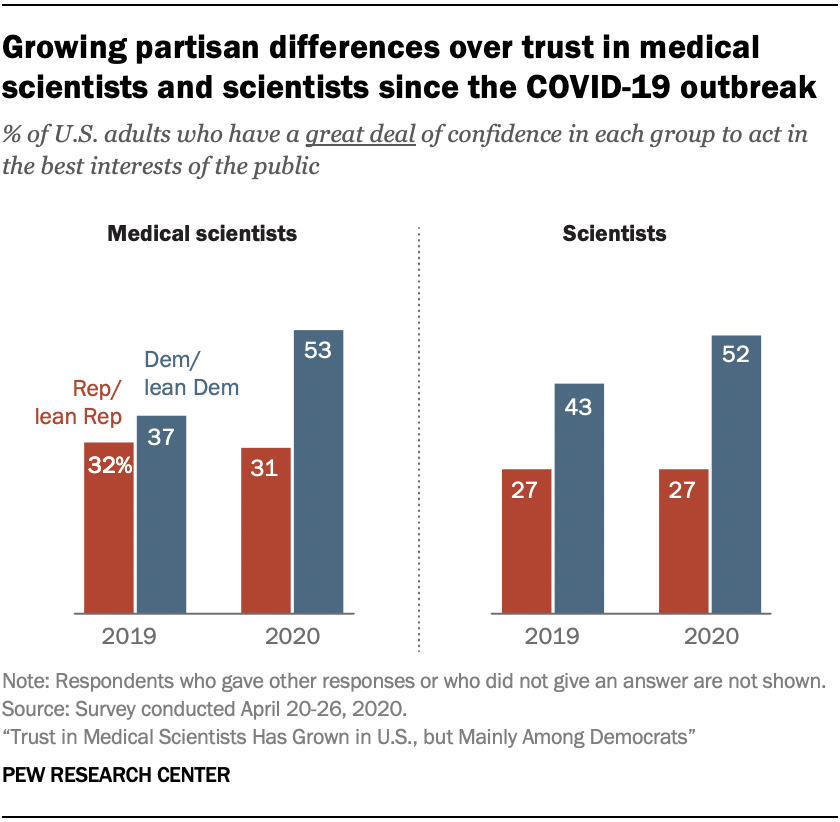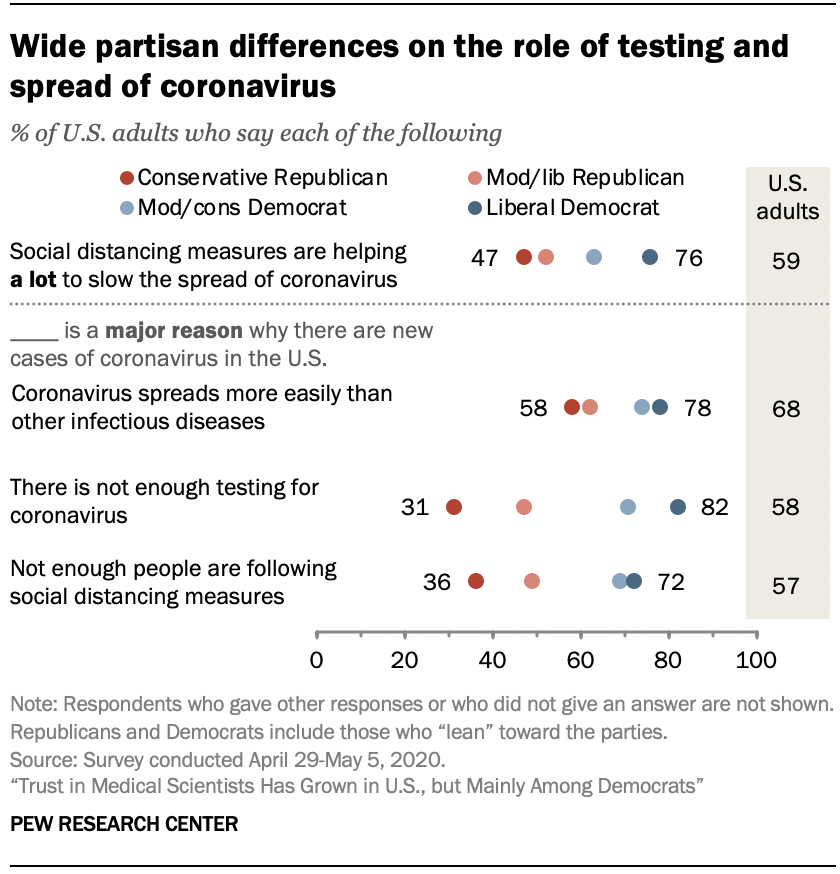 I don't even know what to say about a political party that engages in so much rejection of science.  They are surely not rejecting it when they go to the doctor or drink their treated municipal water.
13) Drum asks whether face shields might be better than cloth masks.  Would be great to have some more research on this as they are surely a lot more comfortable over hours of use.
14) Drum also makes the case for a good mask-wearing PSA.  Hell yeah!!  I'm actually quite frustrated by the lack of these.
15) I've recently become a huge fan of Bob Wachter.  Gotta love his twitter bio, "Career: What happens when a poli sci major becomes an academic physician." Here he is on "the science and politics of masks."
16) This Noah Smith twitter thread is amazing.  It's a compilation of the best of twitter threads on Covid of the past week (I feltd good that I had already seen so many of these).  So much good stuff.
17) Local "experts" think swimming pools this summer are a bad idea.  But, I think that is under the presumption they will operate as normal (obviously, most places opening up are not operating as normal.  Glad the NPR experts label is a low risk.  I will be going to the pool.
18) I read a great twitter thread on best scientific discoveries of the past decade.  Lots of people mentioned Homo Naledi.  I remembered reading about this a few years ago, but had not really appreciated what an amazing discovery this was.  Now I do.
19) Loved this "micromorts" perspective on Covid risks:
Fortunately, there are tools for assessing risk that can help us put the daily torrent of numbers in perspective. I found the best way to communicate the level of risk was to put it in terms that allowed easier comparison to other, more familiar, risks. One could then talk, for instance, about how dangerous living in a contaminated city was compared to smoking a pack of cigarettes a day.

The average American endures about one micromort of risk per day, or one in a million chance of dying, from nonnatural causes, such as being electrocuted, dying in a car wreck or being struck by an asteroid (the list is long).

Let's apply this concept to Covid-19.

Using data from the Centers for Disease Control and Prevention, New York City experienced approximately 24,000 excess deaths from March 15 to May 9, when the pandemic was peaking. That's 24,000 more deaths than would have normally occurred during the same time period in previous years, without this pandemic. This statistic is considered a more accurate estimate of the overall mortality risk related to Covid-19 than using the reported number of deaths resulting from confirmed cases, since it captures indirect deaths associated with Covid-19 (because of an overwhelmed health care system, for example) as well as the deaths caused by the virus itself.

Converting this to micromort language, an individual living in New York City has experienced roughly 50 additional micromorts of risk per day because of Covid-19. That means you were roughly twice as likely to die as you would have been if you were serving in the U.S. armed forces in Afghanistan throughout 2010, a particularly deadly year.

The quality of data varies from state and state, and continues to be updated. But for comparison, using the C.D.C. data, Michigan had approximately 6,200 excess deaths during this same time period. That is roughly the same risk of dying as driving a motorcycle 44 miles every day (11 micromorts per day). Living in Maryland during this time would be roughly as risky as doing one skydiving jump a day for that duration (7 micromorts per jump).
20) A lot of talk about Vitamin D and Covid.  Good summary the issue at WebMD.  Does seem quite likely that Vitamin D deficiency will be more likely to set you up for a bad case of Covid.  But Vitamin D deficiency is already not great and we've not actually done anything about it as a society.  But, maybe fear of Covid could work on that and lead to fewer bad cases at the margins.
21) Really good piece on how we've misunderstood what Sweden is actually doing, but I especially liked this part:
But even if Sweden's policy of allowing businesses to open and people to move out and about is not that different from some policies American states have or will soon implement, there's been one major difference: the schools. Schools for children up to age 15 have remained open, all the way down to daycares and preschool. "That makes a world of difference," Trägårdh told me. "It's a gender issue."

Sweden has one of the highest rates of female participation in the labor force for rich countries. Forcing young children to stay home would put many mothers in a bind or even knock them out of the workforce entirely.

"Closing down schools works well if you are in a well-to-do, middle-class family that has a house and a garden and can afford to have one person staying at home," Trägårdh said. "That may not look like a doable proposition if you are a single parent or do not make a lot of money."

Shutting down daycare and schools could increase risk as well, Angner explained, by leading working parents to turn to their own parents for help. "If you close daycares, then either one parent has to stop working or grandma or grandpa shows up," he said. But since the elderly are most at risk, it was even more important to keep schools and daycares open.