Pew did a really nice study looking at the views of verified voters (something that's a pain, but possible, as voting is, of course, a public record).  Not all that different from what we know, but some very nice summary graphs.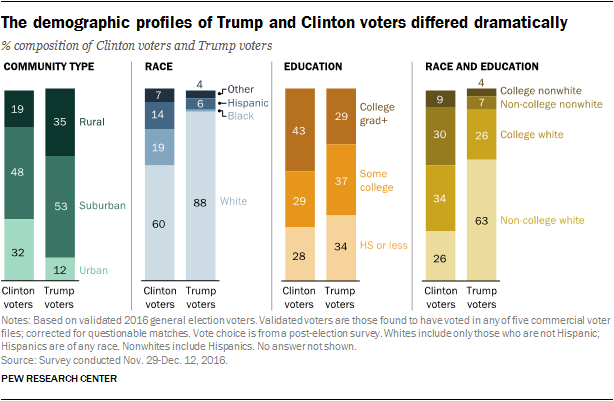 It really is interesting the degree to which the Democratic party is increasingly the party of college-educated whites and racial minorities and and Republicans are so white and so not urban.
Of all the cool summary statistics, I just feel like age is really going to matter going into the future.  Democrats killed under 30 and won by a large margin under 50.  Not a lot of people undergo partisan transformation once they are voting adults, so in coming years, the Republican electorate will increasingly die off while the younger Democrats will increasingly take over.
Of course, that's one reason that Republicans are fighting like hell to rig the game and keep it rigged through gerrymandering, overly-onerous voter ID laws, etc.  But, in the end, there's only so much they can do against numbers like this.  And Donald Trump sure ain't helping.  Unless of course he manages to squeak through a re-election because of the abomination that is the electoral college and then… well, you know… subvert democracy completely.
As to what exactly this verified voter stuff is all about, here you go from Pew:
One of the biggest challenges facing those who seek to understand U.S. elections is establishing an accurate portrait of the American electorate and the choices made by different kinds of voters. Obtaining accurate data on how people voted is difficult for a number of reasons.

Surveys conducted before an election can overstate – or understate – the likelihood of some voters to vote. Depending on when a survey is conducted, voters might change their preferences before Election Day. Surveys conducted after an election can be affected by errors stemming from respondents' recall, either for whom they voted for or whether they voted at all. Even the special surveys conducted by major news organizations on Election Day – the "exit polls" – face challenges from refusals to participate and from the fact that a sizable minority of voters actually vote prior to Election Day and must be interviewed using conventional surveys beforehand.

This report introduces a new approach for looking at the electorate in the 2016 general election: matching members of Pew Research Center's nationally representative American Trends Panel to voter files to create a dataset of verified voters.

The analysis in this report uses post-election survey reports of 2016 vote preferences (conducted Nov. 29-Dec. 12, 2016) among those who were identified as having voted using official voting records. These voter file records become available in the months after the election. (For more details, see "Methodology.") Among these verified voters, the overall vote preference mirrors the election results very closely: 48% reported voting for Hillary Clinton and 45% for Donald Trump; by comparison, the official national vote tally was 48% for Clinton, 46% for Trump.

This data source allows researchers to take a detailed look at the voting preferences of Americans across a range of demographic traits and characteristics. It joins resources already available – including the National Election Pool exit polls, the American National Election Studies and the Current Population Survey's Voting and Registration Supplement – in hopes of helping researchers continue to refine their understanding of the 2016 election and electorate, and address complex questions such as the role of race and education in 2016 candidate preferences.