It's all about race
Political scientists Sean McElwee and Jason McDaniel went right to work on the latest ANES data of the 2016 election and posted their analysis in a May article in the Nation.  I meant to link it then, but, safe to say the issue of race in American politics isn't exactly going anywhere.  Anyway, here's a few key charts: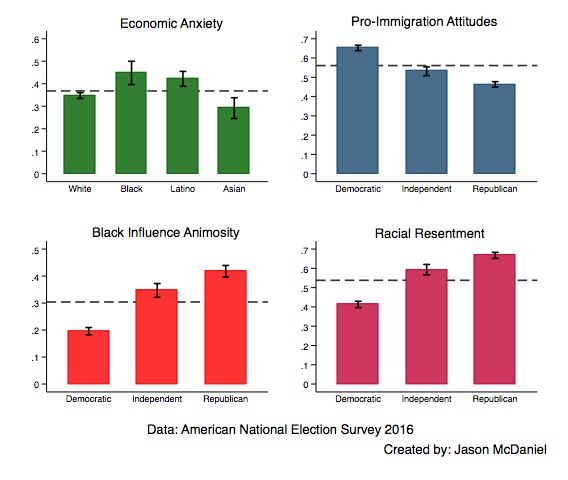 And, of course, it's not actually about economic anxiety at all:
 In our models, racial attitudes towards blacks and immigration are the key factors associated with support for Trump. The way that these variables impact Trump support can be seen in the charts below. Both racial resentment and black influence animosity are significant predictors of Trump support among white respondents, independent of partisanship, ideology, education levels, and the other factors included in the model. The results indicate a probability of Trump support higher than 60 percent for an otherwise typical white voter who scores at the highest levels on either anti-black racial resentment or anti-black influence animosity. This compares to less than 30 percent chance for a typical white voter with below average scores on either of the two measures anti-black attitudes. There is approximately a 10 percent probability of a Trump vote for an otherwise typical white voter at the lowest levels of racial resentment.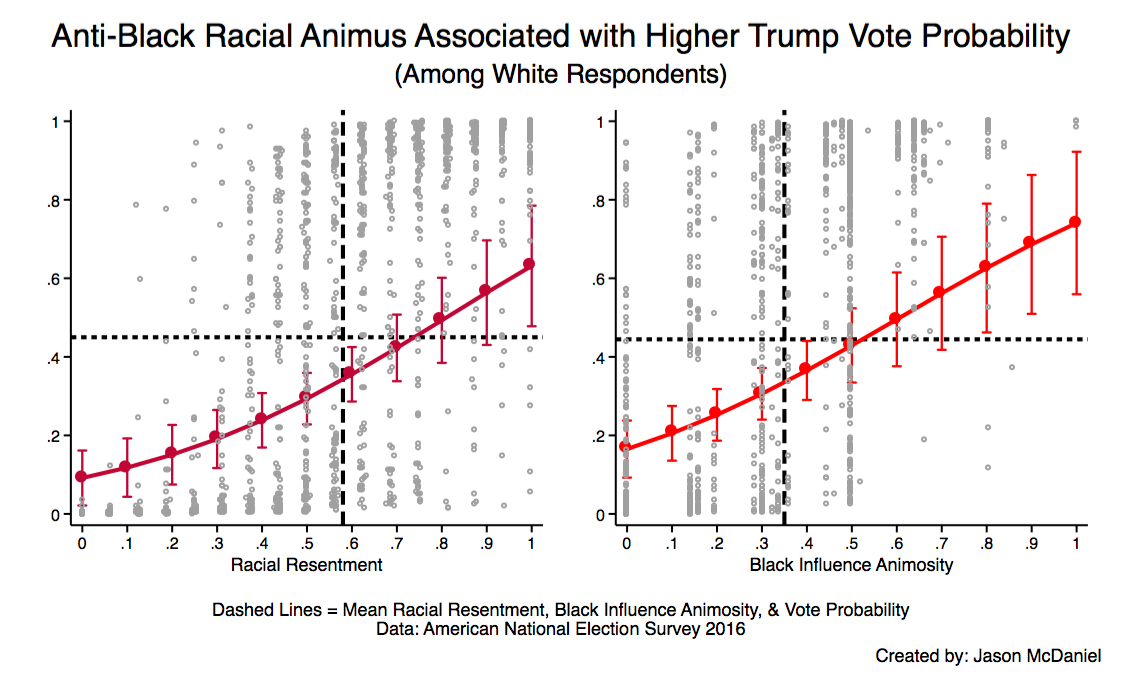 The one-two punch of Obama's presidency and Trump's candidacy sent a clear signal to voters what the parties stood for: diversity on one side, resentment on the other. Trump built upon a decades-long campaign to erase support for the safety net by racializing government programs but extended it further by openly demonizing people of color. Graphs from political scientist Thomas Wood show this relationship clearly: voters are increasingly sorted along the lines of racial resentment. At the same time, the role of income has been twisted: "While the wealthy are usually most likely to vote for the Republican, they didn't this time; and while the poor are usually less likely to vote for the Republican, they were unusually supportive of Trump."
Meanwhile, Thomas Edsall had a lengthy post last month that covered a lot of the same ground, with a focus on how racial resentment is part of a broader international context of globalist vs. nationalist leading to partisan realignments:
By now it has become quite clear that conservative parties in Europe and the United States have been gaining strength from white voters who have been mobilized around issues related to nationalism — resistance to open borders and to third-world immigration. In the United States, this development has been exacerbated by ongoing conservative recruitment on issues of race that has reinforced opposition to immigration. On the liberal side, the Democratic Party and the center-left European parties have been allied in favor of globalization, if we define globalization as receptivity to open borders, the expansion of local and nationalistic perspectives and support for a less rigid social order and for liberal cultural, immigration and trade policies. In recent decades, these parties, both in Europe and in the United States have begun to include and reflect the views of large numbers of well-educated elites — relatively affluent knowledge or creative class workers — in alliance with predominantly nonwhite minority constituencies of the less well-off…
What we are seeing now is the replacement of class-based politics, a trend apparent in the United States and Europe. This gives us a more racialized and xenophobic politics, on one hand, and a politics capitalizing on increasing levels of education and open-mindedness in the electorate on the other. If the building of a viable left coalition is possible, it is likely to require some thoughtful and humane co-optation in the form of deference to our limits and boundaries.