There weren't a ton of those, but definitely enough to swing states like PA, MI, and WI.  Nice analysis from Political Scientsts Sean McElwee and Jason McDaniel looking at this and other questions.  Short version: attitudes towards diversity: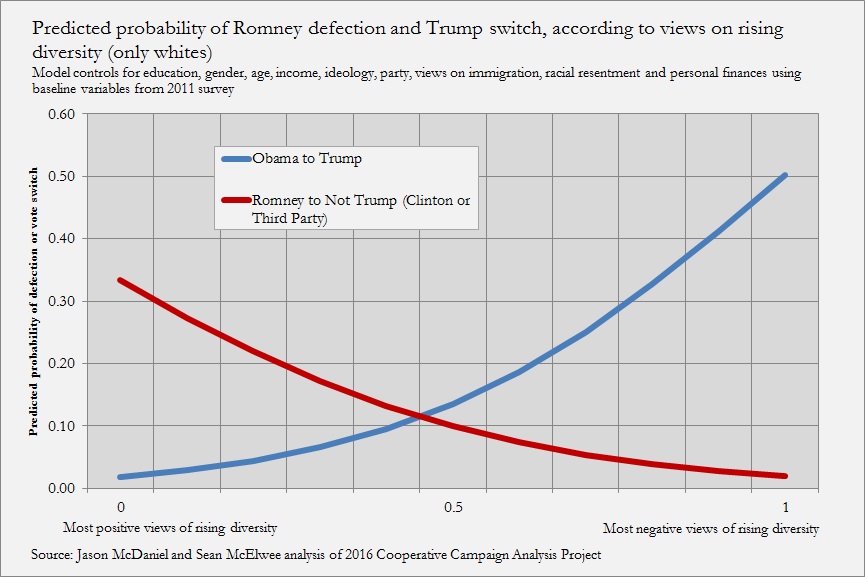 The CCAP data indicate that 9 percent of Obama 2012 voters switched to Trump in 2016, and about 5 percent of Romney 2012 voters defected from Trump by voting for Hillary Clinton, and 6 percent voted for another candidate. Perceiving growing racial diversity as a threat strongly predicts Obama to Trump vote switchers, and more positive attitudes towards diversity predict the probability that a Romney 2012 voter would defect from the Republican nominee in 2016. The chart below shows that among whites most accepting of diversity there was a predicted 33 percent chance of defecting, compared to a 2 percent chance for whites with the most negative views about rising diversity. Among whites with the most positive views of rising diversity, the model predicts a less than 2 percent chance of an Obama voter's voting for Trump. This compares to a 50 percent chance of voting for Trump among whites with the most negative views of rising diversity. Moreover, our analysis indicates that these attitudes had a stronger effect on vote switchers than any other variable, including racial resentment and attitudes towards immigration.
I don't doubt that these racial views have interesting interactions with feelings of economic anxiety, etc., but if there is one consistent thing through all the polling and election data, it is that racial views were very important in Trump's win.