Love a good tidal bore photo gallery.  Qiangting River in China in In Focus: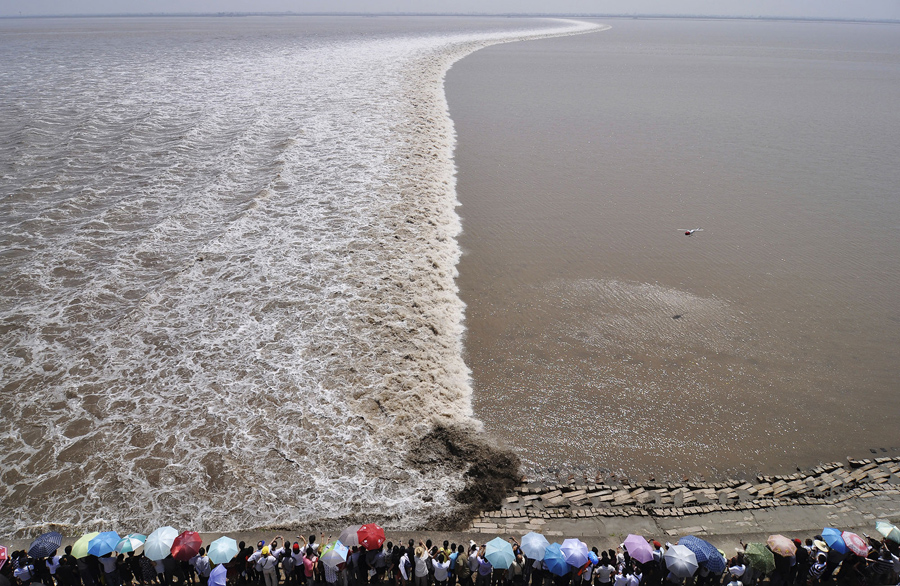 Reuters
Ezra Klein wrote a piece this summer (which I've linked multiple times and surely will again) about how this election was really normal vs. abnormal.  One big problem is just how much we have acclimated to Trump's abnormality.  Chait has an interesting take arguing that another big problem is that the media is also abnormalizing Hillary Clinton:
Americans deem Clinton less honest and trustworthy than a man who lies in public about opponents in both parties with a frequency and brazenness unsurpassed in national politics, who has broken precedent by refusing to disclose his tax returns, who routinely refused to pay contractors for services rendered, who abused a charitable foundation for personal and political gain, who once boasted in a best-selling book about his habit of lying, and who is currently facing trial for bilking thousands of victims in a massive fraud. [emphases mine]

Clinton, as I have conceded, has done some bad things born of secrecy and paranoia. But those bad things have not merely tainted her image but defined it. The email story has utterly dominated the public's impression of Clinton, who is the second-most-unpopular nominee of all time and whose shortcomings compare in the public mind with those of her grossly unqualified, authoritarian opponent. Open up any interview with undecided voters, and you will find them equating Trump's shocking lack of qualifications with Clinton's mundane transparency issues. (For instance, this Florida voter: "Mr. Trump scares him, Mr. Lewis said. Mrs. Clinton, he believes, is dissembling about her health. He, too, is considering sitting out the election.") The ongoing normalization of Trump is the most disorienting development of the presidential campaign, but the most significant may be the abnormalization of Clinton.

The news media's obsession with the emails has, without necessarily intending to do so, conveyed the impression that Clinton committed not just run-of-the-mill political scandals but extraordinary offenses of a historic scale. Indeed, this is exactly what most Republicans, even staunch critics of Trump, believe — for all of Trump's flaws, she too is disqualified…

The funny thing about the scandal surrounding Clinton's private email account is that there was a similar scandal in the Bush administration. Dozens of White House staffers, including Karl Rove, improperly used email accounts provided by the Republican National Committee, which were supposed to be for political work only, for their official duties, thus evading public-records requirements. They then deleted some 22 million emails, thus systematically flouting the same public-records principle that Clinton evaded.

If you forgot about this episode, it is because it was merely a secondary scandal within a larger one, involving a Bush administration scheme to politicize the Department of Justice…

But even if we saddle Hillary Clinton with every ethical failure of her husband's administration alongside her own tenure as secretary of State, and include those of the Clinton post-presidency, it simply does not compare with Bush's. And it should go without saying that the comparison does not excuse Clinton's very real failures of ethics and judgment. Yet the question is not whether Clinton's ethics problems exist at all but whether they ought to separate her from normal politicians. The inability to contextualize these flaws has been a signal failure of the general election.
1) We've got some gasoline shortages here in NC.  There'd be an easy solution– higher prices.  But instead of higher prices, anti-gouging laws prevent the marketplace from working and we end up not with costlier gasoline, but no gas at all.  Great old post from Mike Munger about the problem with anti-gouging laws that he re-posted this week due to the present circumstances.  Rob Schofield, whom I generally agree with, points out that we can expect conservatives to come out and defend price "gouging," but does not actually provide any argument for why these laws do more good than harm.
2) Not at all surprised to find out that pit bulls have better temperaments than chihuahuas.  Small dogs are the worst!  Why would anybody own a terrier?  Yap, yap, yap.
3) A nice look at all of Trump's business failures.  He's a brilliant self-promoter.  He's far from a brilliant businessman.
4) When interviewed, people in the restaurant and bar industry think we should all be tipping a lot.  When tipping is a major part of the employees wages, of course I tip decently.  But tipping is so stupid and needs to go!
5) Really interesting case heading the Supreme Court's way on racial bias among jurors pitting the secrecy of deliberations versus the problem of racism.
6) Back when I was young and unwise and attended a top-ranked college, I thought college rankings were great.  Now I know better.  So does Frank Bruni.
One of the main factors in a school's rank is how highly officials at peer institutions and secondary-school guidance counselors esteem it. But they may not know it well. They're going by its reputation, established in no small part by previous U.S. News evaluations. A lofty rank perpetuates itself.

Another main factor is the percentage of a school's students who graduate within six years. But this says as much about a school's selectiveness — the proven achievement and discipline of the students it admits — as about its stewardship of them.
7) Apparently missing emails are a lot more important for Hillary Clinton than George W. Bush.
8) Drum makes the progressive case for Hillary Clinton.  I strongly concur.
9) A dental practice that totally passes the evidence test?  Sealants.
10) Very much enjoyed this take on "all/blue lives matter"
Dear fellow white people, let's have an honest talk about why we say "All Lives Matter." First of all, notice that no one was saying "All Lives Matter" before people started saying "Black Lives Matter." So "All Lives Matter" is a response to "Black Lives Matter." Apparently, something about the statement "Black Lives Matter" makes us uncomfortable. Why is that?

Now some white people might say that singling out Black people's lives as mattering somehow means that white lives don't matter. Of course, that's silly. If you went to a Breast Cancer Awareness event, you wouldn't think that they were saying that other types of cancer don't matter. And you'd be shocked if someone showed up with a sign saying "Colon Cancer Matters" or chanting "All Cancer Patients Matter." So clearly, something else is prompting people to say "All Lives Matter" in response to "Black Lives Matter."

Many of the people saying "All Lives Matter" also are fond of saying "Blue Lives Matter." If you find that the statement "Black Lives Matter" bothers you, but not "Blue Lives Matter," then the operative word is "Black". That should tell us something.
 11) The authors of this
study
suggest that this election could be bad for daughters no matter who gets elected:
Even if Hillary Clinton wins the presidential election in November, the 2016 campaign still could have profoundly negative consequences for a generation of girls exploring their own leadership potential. To be sure, electing the first female president would show American girls that women truly can overcome gender bias and win elections at the highest levels. But they will also have witnessed another truth: They will pay a price for trying.

It's not just the price of hard work, or confronting the reality that many voters simply aren't interested in voting for female candidates. It's also discovering a presidential candidate chose one man charged with domestic violence to run his campaign and another accused of sexual misconduct to help shape its message. It's a chipping away at women and their leadership potential throughout the campaign from all sides
That said, I think they are flat-out wrong and for young girls having a female president far outweighs the potential downsides.  Here's results from their survey:
A 2014 survey conducted by Making Caring Common, the project at the Harvard Graduate School of Education where we are, respectively, director and faculty co-director, found that girls in middle and high school already face biases against their potential leadership from boys and girls alike. In our survey, fully 40 percent of boys and 23 percent of girls stated an explicitpreference for male over female political leaders (only 4 percent of boys and 8 percent of girls expressed an explicit preference in favor of female political leaders, with 56 percent of boys and 69 percent of girls stating no preference). Our survey also picked up male and female bias against girls as business leaders, and we found certain types of implicit bias against girls' leadership from students and from parents.
Those are concerning.  But I'm confident Hillary Clinton would do far more to shrink those gaps than enlarge them.
11) Hillary Clinton doesn't have a Millennial problem so much as young Millennial problem.  The ones old enough to have voted for Obama in 2008 are alright.  Damn kids today!
12) Larry Bartels (pretty much always worth reading) on the media's mis-placed obsession on white males in 2016.
13) Yet more evidence that student evaluations of college teaching really don't tell us all that much.  Frustrating, personally, as I so much want to believe they do.  The present system does not seem to work well, but there's got to be something better.  It's sure not peer evaluations where all faculty are better than average.
14) Republicans are outraged (rightly) by the behavior of Wells Fargo.  Alas, they want to eliminate the Consumer Financial Protection Bureau that uncovered the wrong-doing.
15) Excellent Dahlia Lithwick piece on a horrible 4th Circuit ruling on public prayer:
The reason legislator-led prayer is permissible, they argued, is because "the principal audience for these invocations is not, indeed, the public but lawmakers themselves, who may find that a moment of prayer or quiet reflection sets the mind to a higher purpose and thereby eases the task of governing."

Predictably, the majority takes Justice Anthony Kennedy up on his claim from Town of Greece that only prayers which "denigrate nonbelievers or religious minorities, threaten damnation, or preach conversion," might cross the constitutional line, but anything short of prayer intended to "proselytize or disparage" must be OK. Even though, the "Christian concepts typically consisted of the closing line, such as 'In Jesus' name. Amen,' " the court finds that "these are not really Christian prayers." The majority simply rejects that notion that multiple references to such Christian concepts might "convey the appearance of an official preference for Christianity." Sigh…

To summarize, the mild sectarian prayer is not sectarian, and the aggressive sectarian prayer shows that non-adherents are too sensitive…

Perhaps we are past the moment in U.S. history where majorities can be persuaded that minority views are anything more than hypersensitivity, or that scoffing at these grievances will neither calm the waters, nor restore America's former "greatness." When we belittle others in Donald Trump's America, it's not just their alleged thin skin we're dismissing. We are also signing off on using the machinery of government to marginalize disfavored groups from full participation in this country.
16) Sasha Issenberg in a nice interview says he thinks Trump's lack of a ground game is going to hurt him.  I agree.  I think it quite likely Trump will under-perform his polls in a number of battleground states.
17) Interesting essay on Trump, Brexit, and cycles in human history from an Archaeologist's perspective.
18) John Cassidy on reasons to believe Trump may not be paying any income taxes at all.
19) Arizona with the worst child molestation law ever.  As written, you are molesting a child when changing it's diaper (unless you can pull off the trick without touching the child's genitals).
20) Nice LA Times editorial for Clinton:
Perhaps her greatest strength is her pragmatism — her ability to build consensus and solve problems. As president, she would be flexible enough and experienced enough to cut across party lines and work productively with her political opponents. As first lady, she worked with Sen. Edward Kennedy (D-Massachusetts) and Sen. Orrin Hatch (R-Utah) to create the Children's Health Insurance Program, which provides healthcare coverage to more than 8 million children. As a senator, she was instrumental in persuading a Republican president to deliver billions of dollars in aid to New York after September 11. As secretary of State, she led the charge to persuade nations around the world to impose the tough sanctions on Iran that led to the landmark nuclear agreement, and she negotiated a cease-fire between Israel and Hamas…

Trump's ignorance of the issues is manifest. He has called climate change "a hoax" and vowed to renegotiate the Paris climate accord. Obamacare would be repealed and replaced with "something great." His signature proposal is to construct a wall along the southern border of the United States — and have Mexico pay the billions of dollars involved. Mexico, unsurprisingly, insists it will not. As for the 11 million immigrants already in the country illegally, they will either be rounded up and deported (though experts say that will cost billions of dollars, disrupt the economy, divide families and require massive violations of civil liberties) or perhaps some will be allowed to remain, living in the shadows.

Trump doesn't take America's global alliances seriously, he has cozied up to Russian strongman Vladimir Putin and he has promised to bring back waterboarding "and worse." His pronouncements, though vague and sometimes contradictory, raise the specter of an iron-fisted leader taking action based on gut impulses — rather than a president seeking common ground among citizens in a politically polarized country.
21) Chait annotates the NYT story on Trump's debate preparation.  Good stuff:
If Trump is legitimately as stupid, lazy, and childlike as his advisers portray him to be, they should stop helping him get through the debate and instead warn America not to let him become president.
22) Catherine Rampell makes the case (with numbers) that Millennials will eventually come around for Clinton.  I think she's right.
23) Eugene Robinson, "In America, gun rights are for whites only."  Sadly, hard to argue with that.
24) Millennials really care about climate change.  Millennials disproportionately support Gary Johnson.  Here's Johnson on climate change, taking the loooooooong view.
Gary Johnson, the Libertarian candidate for president, takes what he calls the "long-term view" of climate change. "In billions of years," he said in 2011, "the sun is going to actually grow and encompass the Earth, right? So global warming is in our future."
25) Your weekend long read– Andrew Sullivan on being an information addict and how it almost killed him (I resemble that information addict part, not the almost killed part).