Chart of the day
Looks like I've done pretty well for just playing a fair amount of pick-up basketball back in high school.  Via the Atlantic: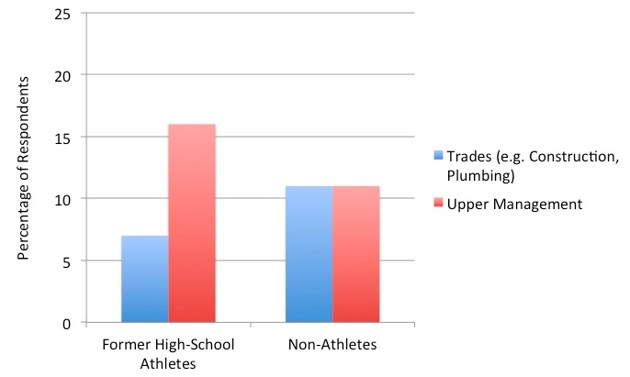 Are high-school sports conferring leadership skills and self-confidence onto a bunch of otherwise unambitious kids? Or are they simply signals, activities that professionally gifted youth gravitate toward? It's not exactly clear. On one hand, team sports, with their constant passing of balls, pucks, and batons, might teach children and teens cooperation. And young people might learn something just from being in situations when they're subordinates. But on the other hand, the likelihood that someone plays a sport could have to do with several variables not recorded in the data: coming from a family that can afford the proper equipment, that has the time to shuttle kids to practice, or that puts a premium on physical activity. Also, "popular" kids might be more likely to play sports, and popularity is really just a proxy for networking prowess—something that the business world prizes.
We don't have an answer on this yet, but my supposition is that far more than anything else we are looking at selection bias.  I suspect the self-discipline and related non-cognitive skills that it takes to balance official high school athletics with academics, as well as the drive and ambition, reflect individuals who are going to succeed more in life, regardless of whatever teamwork and coaching may teach you.  Regardless, interesting.