Smoking by state via Amazing Maps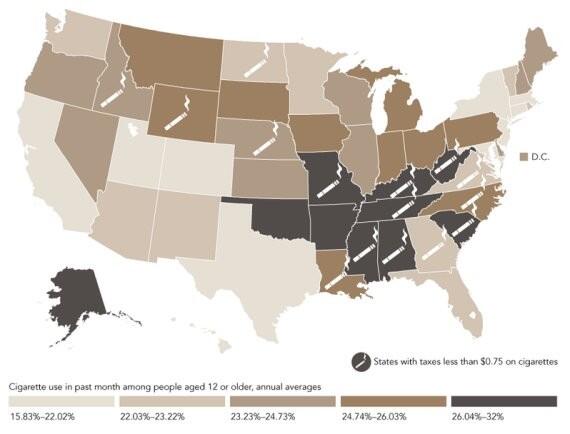 This from Charles Pierce is brilliant.  Was about to put it into quick hits, but didn't want to bog those down with a quote this long:
We cheer for cruelty and say that we are asking for personal responsibility among those people who are not us, because the people who are not us do not deserve the same benefits of the political commonwealth that we have. In our politics, we have become masters of camouflage. We practice fiscal cruelty and call it an economy. We practice legal cruelty and call it justice. We practice environmental cruelty and call it opportunity. We practice vicarious cruelty and call it entertainment. We practice rhetorical cruelty and call it debate. We set the best instincts of ourselves in conflict with each other until they tear each other to ribbons, and until they are no longer our best instincts but something dark and bitter and corroborate with itself. And then it fights all the institutions that our best instincts once supported, all the elements of the political commonwealth that we once thought permanent, all the arguments that we once thought settled — until there is a terrible kind of moral self-destruction that touches those institutions and leaves them soft and fragile and, eventually, evanescent. We do all these things, cruelty running through them like hot blood, and we call it our politics.

Because of that, the daily gunplay no longer surprises us. The rising rates of poverty no longer surprise us. The chaos of our lunatic public discourse no longer surprises us. We make war based on lies and deceit because cruelty is seen to be enough, seen to be the immutable law of the modern world. We make policy based on being as tough as we can on the weakest among us, because cruelty is seen to be enough, seen to be the fundamental morality behind what ultimately is merely the law of the jungle. We do all these things, cruelty running through them like a cold river, and we call it our politics.

It does not have to be this way.
1) On the fashions of World Cup soccer coaches.
2) New Republic has a new Jonathan Cohn-led policy blog.  I'm looking forward to good stuff.
3) Really wanted to give this own post since I'm always fascinated by IUD policy, but it's just not happening.  Anyway, good Slate story about an Ohio legislator who wants to ban coverage for IUD's (while admitting he doesn't actually know anything about medicine).
4) So, what do those extra thousands for a premium DSLR lens really get you anyway?
5) How Americans pronounce common tech words (I had no idea some people say "wiffy.")  And it's .gif with a soft "g" damnit!
6) Sticking with language, love this on words that are most known to only men or only women.  Two thoughts… Paladin!!  and damn, I thought I'd know more of the "women" words.
7) I've only remembered to try this with a paper towel once, but it didn't quite work.  Maybe I need to shake more.
8) Nice NPR story on trying to be a better parent.
9) It's really kind of pathetic that it has taken this long to have the technology in place to allow planes to have consistently descending glide paths in their landings.  The good news is that it finally is and that it saves a ton of jet fuel.
10) Loved this on the under-performance of top NBA draft picks.  And 538 makes the case that teams should draft college sophomores (I just don't think freshman year is always a good enough sample size for prediction).
11) Yes, sports heavy week.  Loved this Atlantic piece on the siblings of World Cup players, especially Clint Dempsey's big brother.
12) The relationship between political attitudes on guns and abortion.  Richard Nixon brings it all together.
13)Science, politics, and NC beaches.  Personally, I just hope Topsail Beach lasts long enough for me to take my grandkids there.
14) Jeffrey Toobin on when the Constitution itself gets it wrong and (again) the folly of Scalia's originalism.